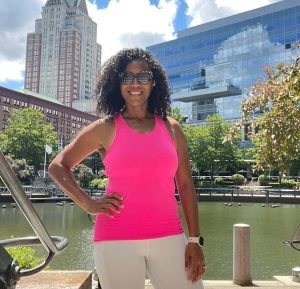 21 days is what we had to work with.  Challengers would receive small group fitness training, structure, consistency, and a healthy eating regimen. Committed participants could lose 5-15 pounds while trimming 2-4 inches from their waistline. With these kinds of results, participants would surely build the confidence needed to manifest a strong, toned, and lean body. 
With a few more clicks of the keyboard- the email broadcast was almost done. The subject line read, "Join our next 6-Week Fitness Challenge today!". The body of the email outlined the details and in the footer was the space disclaimer: an rsvp was required and space was limited. SENT! The email went out to all of our Kinetics Community and our Facebook friends.
Within minutes, there were a ton of folks messaging saying that they were stressed out and wanted in, but it was the message from Ebony that stood out amongst the bunch. Ebony was a good friend of our previous 21-day fitness challenger Tay. Tay had recently lost a bunch of weight on that challenge and was a fitness inspiration to all her friends. Ebony shared her story. One of her biggest "whys"  in pushing for better was her daughter, Brooklyn"I am committed to being my best for her", she'd said.
 Ebony's story, passion, and drive were truly moving! She continued, "I used to be an athlete! I ran track and field throughout my high school and college years. I have always been in amazing shape. But I had a tough pregnancy, and once I got pregnant, I had to dial my fitness all the way back. I focused on having a healthy delivery. Today, of course, I have zero regrets and am blessed to have a healthy, happy baby girl, but now, mama needs her body back!". She spoke again," we are smack-dab in the middle of this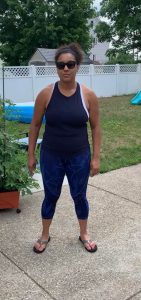 pandemic and I am at home, I can take class virtually, so I am going for it".
There is a popular saying, "you can take a horse to the water, but you cannot make him drink.", and in experience, we humans operate in this same manner, especially when it comes to getting into shape.  Each of us must be ready, and it could be heard in Ebony's voice, she was ready to make her fitness and health a priority. 
Transformation is not always easy, but it is possible. Ebony worked hard, and after 21-days of sweat, effort, healthy eating, and keeping a positive mindset, she dropped twelve pounds.
We were thrilled for her! A lot of people spend years failing to lose the same 10 pounds year after year. Ebony had shed that plus some in only 21-days.
What is even more rewarding is that Ebony has been on a roll ever since. She kept with Kinetics for many more challenges; to date, she has shed more than forty pounds of excess fat and is holding steady at her goal weight. Because Ebony believes in the power of our team, she has become a Kinetics NJ Team Captain, ambassador, and friend. And as a bonus- we love that Brooklyn is inspired by the journey as well.
This month we cheer on our favorite student of the month, Ebony and her baby girl, Brooklyn, we love you both. Thank you for allowing us on your journey.