Our KINETICS Philosophy
KINETICS™ is dedicated to promoting good health and environmentally sound practices in our community. Through the instruction of healthy forms of physical activity, we aim to help you reach your goals with fitness that is fun and effective. We strive to make your exercise experiences both physically and mentally stimulating. Our professional and friendly atmosphere is made up of the best trainers in the business in one of the most innovative training studios in the area.
TRAIN SMART
Not every exercise is appropriate for everybody. Clients are evaluated in order to establish fitness baselines. We take full body measurements as well as conduct basic cardiovascular, muscular endurance, and flexibility tests. Finally, using our Steady Progression Training method, we provide you with a customized plan to ensure your success.
EAT WELL
We provide nutrition coaching in order to educate you on the benefits of eating foods that are appropriate for your body type.
LIVE LIFE
We encourage you to take your "fit body and better you" out into the world and live life to your greatest potential. We challenge you to participate in activities that test your physical abilities such as public races, outdoor adventures, and traveling experiences.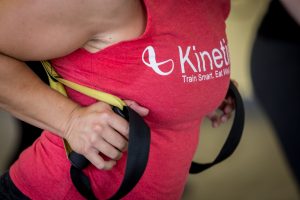 KINETICS™ is a unique, boutique fitness studio with a holistic approach to health and fitness.  We happily offer both private and semi-private group trainings modeled to fit your body, lifestyle, and personal needs. At KINETICS™, we know how hectic life can be.  Our team of certified personal trainers is always ready to provide you with a great workout designed to help you reach your goals.  Team members feel at home when training at KINETICS™ because they know that they can train with other fitness enthusiasts that share their same goal to be the best version of "themselves" possible. If you desire an private or semi-private fitness atmosphere with elite trainers, specialized KINETICS™ is the place for you.
Our Mission:  KINETICS™ and its subsidiaries are dedicated to promoting good health and environmentally sound practices in our community. Through the instruction of healthy forms of physical activity, we aim to help 8,000 people transform their bodies and minds by the year 2021.  We strive to make every exercise experiences both physically and mentally stimulating by offering participants a professional and friendly atmosphere with experienced trainers in one of the most innovative fitness studios in the country
Most of us can find value in the phrase: "take one step at a time."  We interpret that phrase to mean "slow, but steady progress."  Metra Lundy, owner of KINETICS™ made these few words a major component of her business model.  Metra launched her first fitness company, Inspire Me Fit (IMF), in 2009.  IMF was born out of her desire to encourage movement.  Metra's journey into the world of fitness began in 2001 with her love of West African dance.  She was dancing professionally with a northern New Jersey company when she was asked by a fitness associate to instruct a dance training.  Both nervous and excited, Metra agreed to take on the task.  Her experience was nothing short of amazing: Metra's students expressed their love for her coaching style and spirit.  They encouraged her to share her talents with as many people as possible.  After several years of teaching dance, Metra decided to pursue both group fitness and personal training certifications.  As her repatriation grew, Metra subleased larger and larger spaces that she transformed in gyms.  Eventually she prepared a plan, assembled a group of family investors, and hired a construction crew to get to work on retail space that would become KINETICS™.  On May 1, 2010, KINETICS™ opened its doors at 409 Raritan Avenue in the heart of Highland Park, NJ.  The initial iteration of this fitness studio provided a wide variety of classes as well as personal training.  In 2015 KINETICS™ moved its core services to 401 Raritan Avenue – An ideal space for personal training and boot camps.  Metra then redeveloped 401 Raritan into a hot yoga and aerial fitness facility called KINETICS FLOW™.
Are You Ready for a Fitness and Fat Loss Program that Gets Results?
Private Personal Training
Personal Training describes an experience in which individuals or small groups work with a certified fitness professional in order to improve their fitness abilities. This includes, but is not limited to: improved cardiovascular abilities, mental and physical strength, balance, coordination, and flexibility.
* FREE customized workout and body analysis
* Tone up your problem areas
* Stay motivated with personalized attention
Get a FREE WORKOUT
and Consultation
Initial Assessment
Full Body Measurements
Semi-Private Group Training
Take your group fitness experience to the next level. Get the body that you have been waiting for when you do semi-private training at Kinetics. Team training gets results! Regardless of whether your goal is to slim down or tone up, your trainers, coaches, and teammates will keep you motivated while you have fun and achieve real results. What is even better at Kinetics is that our flexible seven days per week training schedule allows you to work out when it is most convenient for you! 
Make 2021 STRONG
7 DAYS FOR ONLY $25
Nutrition Advice
Unlimited Classes
Progress Report
Goal Assessment