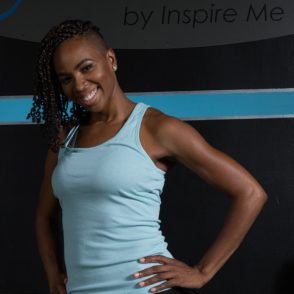 Metra Lundy
Few leaders in the fitness industry can say that their work lies in changing lifestyles. Metra Lundy, a personal fitness trainer and group fitness instructor for over a decade, inspires clients to make permanent fitness changes for the good.  Metra has worked with hundreds of clients in the Tri-State area since 2003 using her signature style and approach to healthy and conscience living. 'Train Smart, Eat Well, Live Life' is the philosophical foundation upon which her personal training and group fitness company KINETICS™ is built upon.  Metra and her team believe in whole-concept thinking, and they work to educate and motivate clients to reach their greatest fitness potentials.

Metra, a former traditional West African dancer, holds several national personal training, group fitness, and yoga certifications, and she teaches signature group training sessions such as Zumba® Fitness, willPower & Grace® and more.  Metra believes that her degrees in both Accounting and Biology have made her a well-rounded and successful fitness professional.
Kelly Goldhammer
Kelly holds a degree in Applied Kinesiology from Rutgers University, and she is an enthusiastic and passionate personal trainer certified through the American Council on Exercise (ACE).  Before becoming a fitness professional, Kelly was an athlete and fitness enthusiast who was well aware of the many benefits provided by regular physical activity.  She believes that with the right mindset and positive approach to working out, and getting into shape, anyone can achieve their fitness goals.
Kelly specializes in core and stability training; her belief is that the core is literally the core of all functions and activities performed on a daily basis.  She utilizes integrated exercises in her workouts to challenge the body and stimulate the mind, and she is creative in her exercise design.  With her upbeat attitude and personable demeanor, she is sure to inspire and encourage you in your pursuit of fitness and health.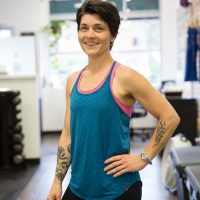 Petronella Tarr
Petronella, aka Nelli, has helped countless people achieve healthier and stronger bodies through her motivation and coaching abilities.  At 5'2", her stature is the only small thing about her – Nelli has a big heart, an immense passion for excellence, and an unmatched desire to see her clients exceed their goals. 
With a background in competitive running, Nelli applies her competitive attitude, honed through sport, into her everyday life.  In Nelli's eyes, there is no option other than the continuous progression toward success.  At KINETICS™, Nelli channels her energy as a certified personal trainer and Boot Camp instructor.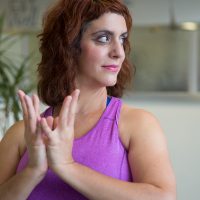 Fania Tsakalakos
Fania Maria Tsakalakos is a versatile performance and somatics/dance/movement/fitness teaching/training artist, who relocated to Highland Park from Philadelphia in April 2016 to raise her baby. Fania holds a Master of Fine Arts in Dance from Smith College, BFA in Dance & Psychology from Rutgers University, Yoga certification from Om Yoga Center NYC, mat certification from the Kane School, and a plethora of other certifications. 
Her motto "embodying versatility" encourages students to stay present for and open to embodiment of any movement experience. As a songwriter and choreographer, she specializes in the fusion of various cultural forms, which is why she enjoys creating her own pilates- or yoga-based exercises/methods. With over fifteen years of movement teaching experience, Fania has taught in Istanbul, Barcelona, Athens, NYC, Northampton, Philly, and now… Highland Park! 
Fania is honored to offer her talents at Kinetics. She loves that she gets to teach various fitness/wellness forms at Kinetics including the new Floor Burn Barre class. Get ready for a transformative experience!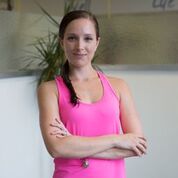 Jaclyn Spoleti
Jaclyn graduated from Rutgers University in 2012 with a degree in Theater Arts and a degree in Communication.  In June 2013 she completed her 200 hour yoga teacher training and shortly thereafter began teaching regular classes.  Over the past few years, Jaclyn has developed a deeper passion for fitness In December 2015 she became certified in TRX® training and in February 2016 she acquired a Bodyflow® certification. She joined the Kinetics Team in April 2015, and she is very proud to be a part of this group of fitness professionals!  Yoga and fitness are an important aspect to Jaclyn's life, and enjoys helping her clients as they travel upon the path of their own fitness and wellness journey.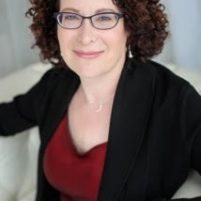 Amy Dixon
Amy fell in love with ZUMBA, a Latin-inspired dance-fitness program, in 2009. Although she has always been enthusiastic about fitness, ZUMBA was different. It was exercise in disguise- hundreds of calories burned while having fun!  Amy became a licensed Zumba Instructor in 2010, and also holds licenses in Zumba Gold and Zumba Toning. Upbeat songs and fun choreography is what you'll find in one of her classes.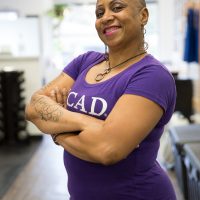 Jacinta "Jaye" DeCohen
This spry little mother of two and "Lola" (Tagalog for "grandmother") of three brings her love for God, life, movement and play into all of her fitness classes. She believes fitness is for everyone and strives to make every class she teaches fun and accessible to anyone who wants to participate. When she retires from her 'have-to' job, she will continue to do her 'want-to' job. "For me, teaching fitness is not a 'job', it's a joy!"
A veteran of several marathons and half-marathons, Jaye knows that occasionally the journey to what you want can be long and, at times, arduous, but the the outcome is always worth it. Perseverance and persistence always pay off!
A Zumba Fitness® Instructor since 2008, Jaye is licensed to teach Zumba®, Zumba Gold®, Zumba Toning®/Gold Toning®, Zumba Kids®/Kids Jr.®. Zumba Fitness®
Jaye is a trained willPower & Grace® instructor since 2008, and became a Phase II Instructor in 2014. Also authorized to teach willPower IGNITE®, a Tabata/HIT (Holistic Interval Training) class. Both classes are barefoot, training you from the ground up, getting you strong, centered and balanced.
Certified as a group fitness instructor through the American Council on Exercise (ACE), Jaye is currently studying to become an ACE Certified Personal Trainer within the next year. There are other certifications pending, once she decides which one(s) she wants to take!
Also CPR/AED Certified through the American Red Cross, so you're safe with her!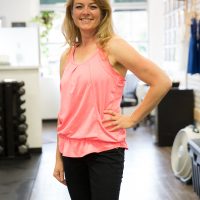 Tracey Bates
Tracey has been working in many areas of the health and fitness industry for over 20yrs.  In 2017, Tracey received a NASM certification for personal training as well as a certification for Cardio Kickboxing.  Currently, she is in the process of earning a Health Coach Certification.  Tracey loves working with people and enjoys helping them through the process of reaching their goals.  Not only does Tracey have experience with group fitness and personal training, but also in the health food and supplements industry.  "I love food and exercise and how they are directly related to healing the body.  I have had ups and downs with weight and fitness, myself, after having two children, so I can relate to the struggles and challenges people have in this area.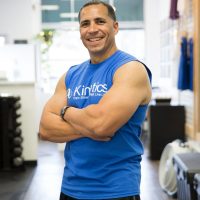 Gabriel Gonzalez
Beginning at the age of ten, Gabriel began his fitness journey as a runner, then at age 15 he wrestled in high school.  As he grew stronger, his passion for exercise and the importance of a healthy lifestyle became the foundation for his career as a fitness professional. Since then he has studied various forms of martial arts and boxing, but Gabriel knew that he wanted to make health and fitness a career after he began to practice yoga regularly. "I incorporate martial arts, boxing, and various modalities of exercise in the programs I design for my personal training clients and boot camp classes". Gabriel is an ISSA certified personal trainer, as well as certified in P90X and Core De Force.  In his words "I believe that we must create a balance in everything in life, which I demonstrate regularly in the techniques I use in my teaching".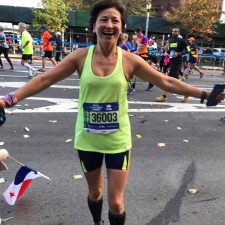 Nora Mamadjanova
Nora started teaching in 2005 and she strives to help her clients be fitter through developing focus and discipline. She also aims to help clients understand and be comfortable with the idea of hard work and persistence to truly achieve their goals. Nora enjoys seeing her clients become more confident and realize they are in charge of their health and that the sky is the limit to what they can achieve.
Are You Ready for a Fitness and Fat Loss Program that Gets Results?
Private Personal Training
Personal Training describes an experience in which individuals or small groups work with a certified fitness professional in order to improve their fitness abilities. This includes, but is not limited to: improved cardiovascular abilities, mental and physical strength, balance, coordination, and flexibility.
* FREE customized workout and body analysis
* Tone up your problem areas
* Stay motivated with personalized attention
Get a FREE WORKOUT
and Consultation
Initial Assessment
Full Body Measurements
Semi-Private Group Training
Take your group fitness experience to the next level. Get the body that you have been waiting for when you do semi-private training at Kinetics. Team training gets results! Regardless of whether your goal is to slim down or tone up, your trainers, coaches, and teammates will keep you motivated while you have fun and achieve real results. What is even better at Kinetics is that our flexible seven days per week training schedule allows you to work out when it is most convenient for you! 
Make 2021 STRONG
7 DAYS FOR ONLY $25
Nutrition Advice
Unlimited Classes
Progress Report
Goal Assessment