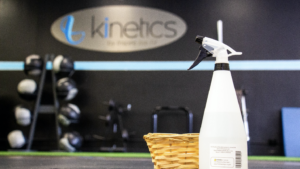 Kinetics is happy to welcome clients back in-studio at a limited capacity of 25% (5 participants per class) following local regulations. Starting October, indoor classes will be held on Tuesdays, Thursdays, Fridays, and Saturdays.
Your health and safety are our #1 priority, and we're committed to keeping you and our communities safe and healthy.
Kinetics has taken extra measures, in accordance with governmental and industry protocol, to keep the facilities clean and COVID-free. We are following strict procedures to maintain a high level of cleanliness.
– Workout spaces have been measured and marked out on the floor
– Class schedules have changed to accommodate cleaning between sessions
– Equipment and accessories will be cleaned between client usage
– Hand sanitizer will be required before and after class
– The studio will be sanitized at the close of every shift
If you choose to workout in-studio, please be sure to sign up for a class through the Mindbody platform. Due to limited capacity, we cannot take walk-in clients. Masks are required at all times and clients will need to bring their own yoga mat and towel.
For your convenience, Kinetics still offers outdoor, as well as virtual classes via Facebook and Zoom. All indoor classes are simultaneously broadcasted live so you'll still feel the Kinetics community! We look forward to seeing you soon.