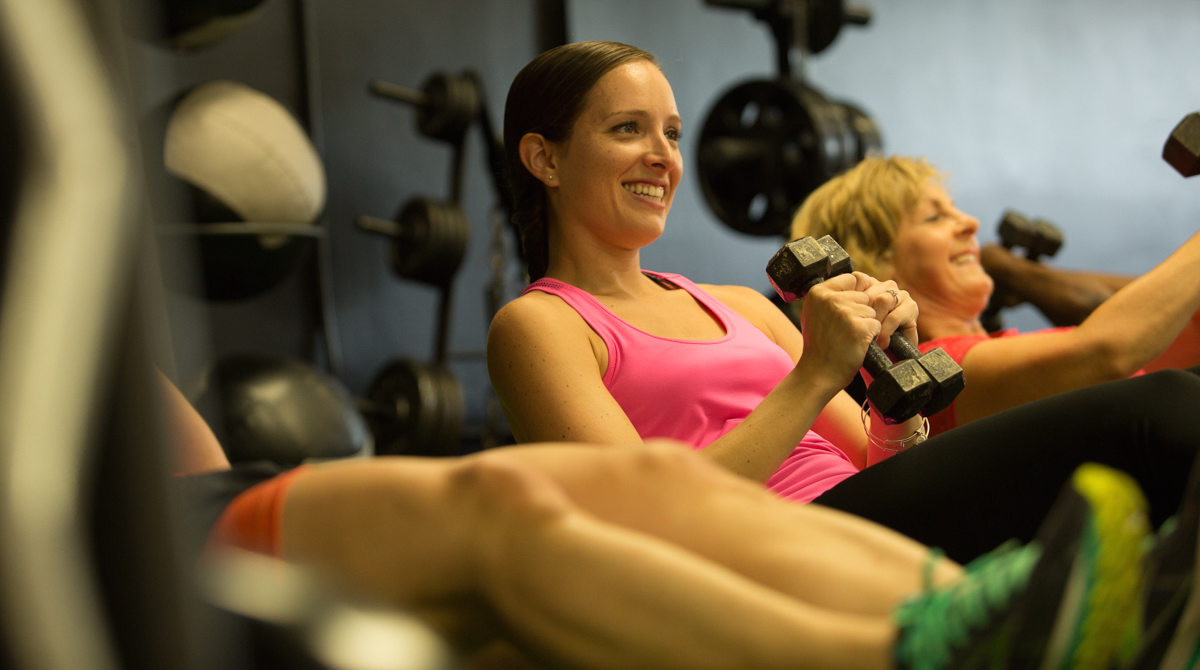 Use the following three tips to bring your routine up to the next level:
1. Be Unstable: Use your entire body, and target your core, by performing exercises that engage stabilizing muscles. To do this use an exercise ball, a balance board, a balance disk, or you could simply stand on one leg.
2. Add Resistance: The more resistance that you incorporate with your routine translates into higher intensity and more calories burned. Some ideas for adding resistance include: carrying dumbbells while doing lunges, wearing a weighted vest while walking or jogging, or putting a weight between your feet while doing leg raises.
3. Use Intervals: Interval training is an amazing tool for creating short yet effective workouts. Don't worry, it's not complicated. Interval training is simply alternating between different short bursts of activity.
---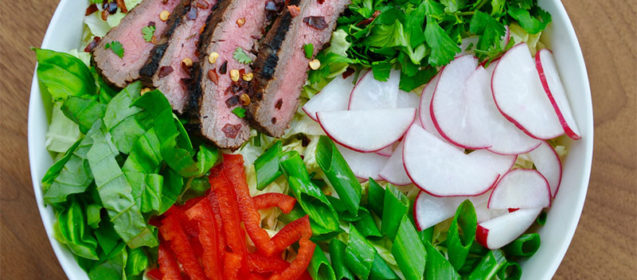 Got leftover grilled flank steak? Here's a vibrant mix of fresh veggies to serve it up with! For the dressing use a simple drizzle of olive oil, balsamic vinegar, and freshly cracked salt and pepper. Enjoy!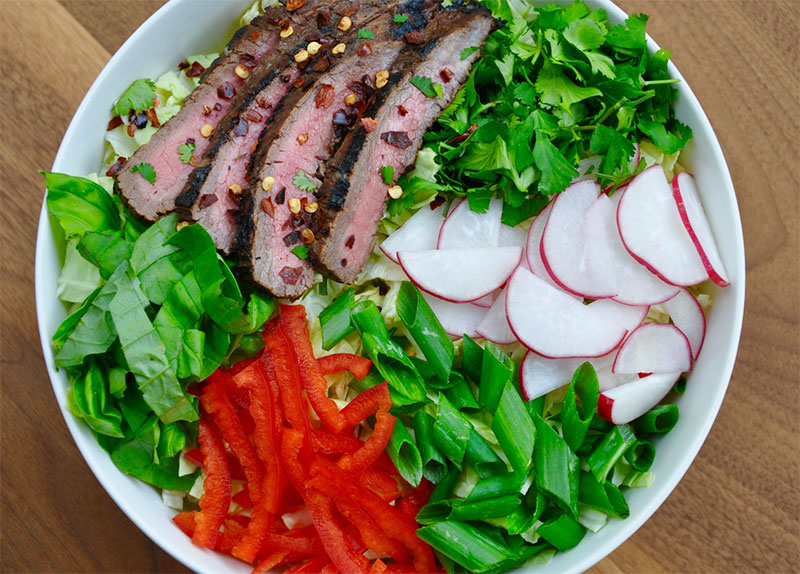 Courtesy of RealHealthyRecipes.com
What you need
Servings: 4
1 head savoy cabbage, chopped
1 bunch fresh cilantro, chopped
1 red bell pepper, seeded and thinly sliced lengthwise
4 scallions, greens only, thinly sliced
6 radishes, halved and thinly sliced
½ cup fresh basil, chopped or torn
8 ounces grilled flank steak, thinly sliced
Instructions
1. Divide the ingredients between 4 salad bowls. Serve with your choice of dressing. Enjoy!
Nutrition
One serving equals: 391 calories, 14g fat, 14g carbohydrate, 7g sugar, 136mg sodium, 5g fiber, and 50g protein.
---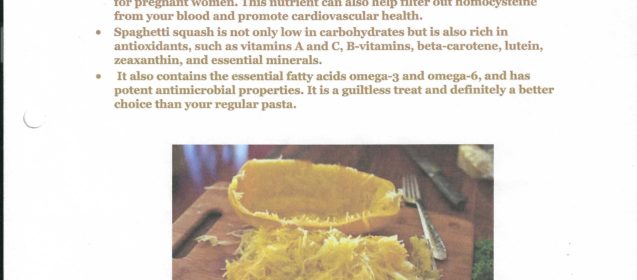 Fitness Lasagna
Instead of regular lasagna noodles, this recipe calls for zucchini noodles in order to sway the calorie balance in your favor. Cheese has also been swapped out for egg whites, which increases the overall protein while reducing calories.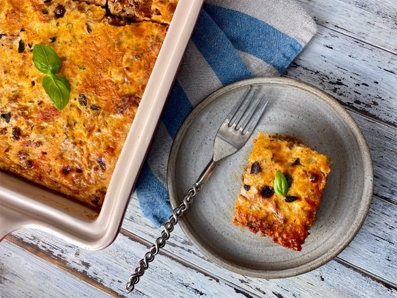 What you need…
Servings: 6
For the Noodles
1 small spaghetti squash
4 Green Zucchinis, sliced into ⅛ inch noodles
1 teaspoon olive oil
Dash of salt and pepper
a sprinkle of dried basil
For the Filling
1½ pounds ground meat (turkey, beef, chicken or even ground impossible burger)
1 teaspoon sea salt
2 cloves Garlic, minced
1 yellow onion, chopped
2 teaspoons Dried Oregano (OR fresh oregano)
1 (25.5 oz) jar marinara sauce
16 oz. carton egg whites
Instructions
Preheat oven to 400 degrees F. Line 3 baking sheets with parchment paper.
Cut the ends off the spaghetti squash and discard. Slice the rest of the spaghetti squash into 1-inch rings. Use a spoon to remove the seeds from the center of each ring. Cut the rings into half and arrange on one of the baking sheets. Drizzle with olive oil and sprinkle with salt and pepper. Roast in the preheated oven for 30 minutes.
Using a mandoline slicer, slice the zucchini into ⅛ inch lasagna noodles. Place in a single layer on the remaining prepared baking sheets. Drizzle with olive oil, salt and pepper and dried basil. Bake at 400 F for 10 minutes.
In a large skillet, place the ground meat, salt, garlic, onion and oregano over medium high heat. When the meat is browned add the marinara sauce and scrape the roasted spaghetti squash flesh into the skillet. Mix well and simmer for 5 minutes.
For the Assembly
In a casserole dish, make a single layer of zucchini noodles at the bottom. Top with half of the filling. Top with half of the egg whites. Top with the remaining zucchini noodles, the remaining filling, the remaining egg whites. Sprinkle a little more oregano and basil on the very top.
Reduce the oven to 375 and bake uncovered for 40 minutes. Turn on the broil for 2-3 minutes, to help evaporate some of the liquid from the top of the lasagna. Enjoy!
Nutrition
One serving equals: 380 calories, 14g fat, 987mg sodium, 13g carbohydrate, 4g fiber, 6g sugar and 44g protein.
---
---
---
Let your light shine
She was a tall, well-dressed woman with tightly curled hair and neatly manicured nails. I escorted her to our consult room. She arrived just in time for her fitness assessment.
She spoke. "Whew! It's been a full day. My job is very demanding. I work about sixty hours a week, rarely take lunch, and commute an hour each way. After work, I race home to make dinner, help my kids with their homework, and finally spend a little time with my husband. I'm here because my energy is low, I'm feeling blah, and I need to do something about it. I thought if I started working out and eating healthy I might feel better.
Is this you? If you said yes, you are not alone. I meet hundreds of women who express some version of this reality daily.
So, what's a woman to do; how does the change that she wants and needs occur?
We women share a similar hat in feeling like we have to manage it all. Here is what's worked for me and hundreds of clients that I've worked with:
Brighten your light! You will be a better employee, mother, and wife for doing it.
1. Recognize that only you know when your light is dim and only you can do something about it.
2. When more self-care is needed, take ownership of your need for a recharge.
3. Carry-out your recharge by any means necessary.
Proper nutrition and consistent exercise matter.
1. Healthy, nutrient-dense foods fuel us – so eat mindfully and with purpose
2. A simple strength training circuit has no boundaries; 20 minutes of effort at home, at work, or at your fitness studio will take your body and confidence a long way
3. Focused work pays off with time and effort.
You are capable of greater giving when you bright, so DO take care of you.
---
We have some exciting events happening in both studios for this month! Check out the flyers below and make sure to RSVP to reserve your spot! (They're filling up fast!)
---
​Learn to Make it: Clean-Eating is a Lifestyle (Food-Tasting Workshop) – January 20, 2019

​Every third Thursday of the month, Join Tracey for some delicious food-tasting! From 2pm – 4pm, learn to make a new dish that'll leave you light yet satisfied.
Kinetics 5K Fun Run – February 3, 2019
​Every month, we've been hosting a Sunday morning 5k every first Sunday of the month. Keep your fitness resolutions and take a lap around Highland Park with your friends! One at 7:30am and one at 9:00am!
Partner Yoga – February 14, 2019
Love yourself a little this evening by trying something new! Yoga with a partner redefines trust, strength, and excitement. Go through flows and poses with someone else's support! No partner required – we'll pair you up there! 7:00pm (replaces Hot Yoga)
---
Fitness & Fashion Tips and Tricks! Check out the video below to get your leg-sculpting tips and fashion tricks (perfect for sculpted legs in the making)! Join us for our next episode on how to tone your whole body and look great in a bathing suit!
---