Paleo Granola Recipe
Recipe courtesy of TastesOfLizzyT.com​
Here's a nutty, crunchy, paleo granola recipe baked in coconut oil and sweetened with dates. Serve this sugar-free recipe as a snack or for breakfast. 😍
Prep Time 10 mins
Cook Time 25 mins
Total Time 35 mins
​Make sure to log this appropriately as the calories are high and you don't want to overdo it. 
Servings: 14 (1/2 cups)
Calories: 423 cal per serving
Author: Julie Clark​
Ingredients
1

 

cup

 

raw pepitas

 

(pumpkin seeds)

1

 

cup

 

raw sunflower seeds

 

(unsalted, not in shells)

1

 

cup

 

shredded coconut

 

(unsweetened)

1

 

cup

 

sliced almonds

 

(unsalted)

2

 

cups

 

chopped pecans

 

(unsalted)

20

 

pitted dates

 

(chopped finely)

1/3

 

cup

 

coconut oil

2

 

teaspoons

 

cinnamon

3

 

teaspoons

 

vanilla

dash 👌 of salt*

 

(optional)
Instructions
Here is something that I did that was different:
-I soaked the nuts and seeds for 24 hours prior to roasting to allow for easier digestion.
This is me just rinsing them after I allowed them to soak:
​
Preheat the oven to 325 degrees.
Mix all of the dry ingredients together in a large bowl.
Melt the coconut oil and pour it into a small bowl. Add the cinnamon, vanilla, and salt (if none of the nuts are salted, I recommend a dash of salt). Stir well. 😉
Pour the oil mixture over the dry mixture and stir to combine and evenly coat.
Spread the granola on a baking sheet* and bake for 20 minutes. Stir, then bake an additional 5 minutes. 😍
Allow the granola to cool completely, then store it in an airtight container.
This recipe makes about 7 cups of granola.
​
Here is how I enjoyed the first cup:
Notes
*If any of the nuts or seeds you buy are salted, you will not want to add additional salt. Add salt to taste if the ingredients are unsalted.


The calories shown are based on the recipe making 7 cups of granola, with 1 serving being 1/2 cup. Since different brands of ingredients have different nutritional information, the calories shown are just an estimate. 
**We are not dietitians and recommend you seek a nutritionist for exact nutritional information.**​
Nutrition
Calories: 423kcal | Carbohydrates: 36g | Protein: 8g | Fat: 31g | Saturated Fat: 9g | Sodium: 19mg | Potassium: 495mg | Fiber: 7g | Sugar: 27g | Vitamin A: 65IU | Vitamin C: 1mg | Calcium: 73mg | Iron: 2mg
---
---
---
---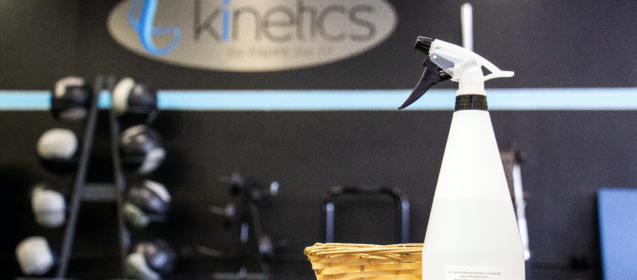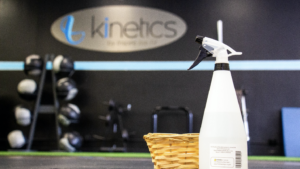 Kinetics is happy to welcome clients back in-studio at a limited capacity of 25% (5 participants per class) following local regulations. Starting October, indoor classes will be held on Tuesdays, Thursdays, Fridays, and Saturdays.
Your health and safety are our #1 priority, and we're committed to keeping you and our communities safe and healthy.
Kinetics has taken extra measures, in accordance with governmental and industry protocol, to keep the facilities clean and COVID-free. We are following strict procedures to maintain a high level of cleanliness.
– Workout spaces have been measured and marked out on the floor
– Class schedules have changed to accommodate cleaning between sessions
– Equipment and accessories will be cleaned between client usage
– Hand sanitizer will be required before and after class
– The studio will be sanitized at the close of every shift
If you choose to workout in-studio, please be sure to sign up for a class through the Mindbody platform. Due to limited capacity, we cannot take walk-in clients. Masks are required at all times and clients will need to bring their own yoga mat and towel.
For your convenience, Kinetics still offers outdoor, as well as virtual classes via Facebook and Zoom. All indoor classes are simultaneously broadcasted live so you'll still feel the Kinetics community! We look forward to seeing you soon.
---
---
---
Statement from Metra Lundy, the owner of Kinetics and Kinetics Flow:
Hey there,
I hope you do not mind, but I rose today wanting to share a bit of my truth, and the truth that I have seen with my clients for over a decade now. The time for "yo-yoing" is over and long-lasting change is necessary. To get there though, we need three specific actions:
1. Honest and thoughtful assessment
2. The development of a realistic plan of action
3. Then swift, focused and discipline implementation of that plan
As a coach and trainer for over a decade, I am clear that whether you are talking about losing belly fat to ward off the dangers of heart disease, following protocols that prevent the spread of the Coronavirus or seeking justice for those who have been grossly and wrongly treated, the protocol is the same;
1. Assess, Plan, and Act
Kinetics and Kinetics Flow stand on a simple and clear set of core values; and, what is awesome is that those values are a shining light within our community.
I think we can all agree that the world feels extremely heavy at this moment. But, within that heaviness, I would like to thank my Kinetics, Kinetics Flow people as well as friends of our community for your commitment to doing the work. That is, the work of taking care of your physical selves; the work of developing your mind and extending positive perspectives out into the world; the work of standing for justice and healthy communities for all.
We train knowing that the dedicated time, energy, and efforts spent is what makes us better in our daily lives. We train knowing that we are not done. In fact, we have only scratched the surface. Fitness in all its forms (physically, mentally, and emotionally) is a life journey. And when done consistently, allows us to create healthy "selves", raise healthy families that create healthy communities which then empowers us to create a healthy world.
So, to all of you I say, keep training – our world is demanding that you be strong
Eat well, your energy and stamina are required
Be the change that you want to see – your ongoing improvement is the example of what it means to be a valuable citizen of any community and the world.
---
---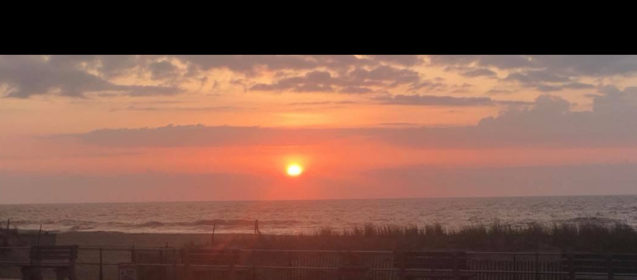 Finally, there is light at the end of the tunnel. Slowly the stats are changing, COVID research is happening, testing sites have increased, death rates are down, and a few states have allowed businesses to reopen.
This is exciting news, right? It means that we are improving. It means that after so many weeks of being in quarantine, we will get to reconnect. We'll get to feed that part of us that wants and needs human interaction. But of course, that connection also comes with some risk.
Most of us agree that COVID-19 has not only rocked our economy, it has rocked our worlds. And, as a result, we are all much more cautious of how many times a day we wash our hands, who is standing too close to us, and whether the surfaces that we are touching have been sanitized.
So, when Kinetics reopens its doors (which, although Governor Murphy has not given a date yet, I personally expect will be somewhere around the middle or end of May), we will do EVERYTHING POSSIBLE to keep us all healthy and safe!
If you scroll to the bottom of this email, you will notice that I have created a list of COVID-19 Safety promises. Just below that I have also asked a few things of you that I believe will positively add to our safety net.
But, I think that we can agree that my list is just that, my list. And, as I was compiling it, it dawned on me that I should ask you what specific facility safety protocols you would like to see in place when we reopen.
You see, I am clear that, together, we are what gives Kinetics and Kinetics Flow life, energy, and vitality. So, I would like to hear from you. What would make you feel COVID-19 safe?
Our promise to keep you safe:
We are using a combination of state and industry protocols to establish and maintain safety.
Social distancing: we are preparing for a soft opening which means that we will open in stages.
Stage one:

Kinetics Fitness will reopen
Services will include personal training and small group training with groups capped at five people
All Kinetics Flow classes will remain virtual

Stage two:

Kinetics Flow will reopen
Services will include personal training, small groups capped at ten people at Kinetics Fitness and small groups at Kinetics Flow with groups capped at five people
Virtual training will remain in place for those who feel more comfortable training from home

Lobby areas will remain closed
Workout spaces will be measured and marked out on the floor
Deep clean: the facilities will be deep cleaned once per week
At the close of every shift: studios will be sanitized
In between client usage: equipment and accessories will be cleaned
Courtesies that we unfortunately can no longer provide include towels and mats
Hand sanitizer will be required before and after using the check-in tablet at the front desk
As a staff we will wash our hands often and will encourage you to do the same
All clients will be required to wear a face mask when entering the building
Workouts will be monitored and adjusted to ensure that everyone training can maintain appropriate breathing with the mask on
Hygiene: we will take a three-part approach to maintaining cleanliness
Usage of face masks: at this point it appears that face masks will be required by law once we reopen. If it is required, we of course will adhere to the requirement.
What we are asking of you:
Your patience and understanding as we do our best to keep everyone healthy and safe
Help with ensuring that all equipment and accessories used by you is sanitized after you have used it
Maintain excellent personal hygiene by washing your hands often
Respect social distancing to keep yourself and those around you safe
As a staff we continue the thank you for helping us keep the wheels of the studio turning; and we look forward to seeing your beautiful faces again soon.
Reminder: do let us know what safety protocols that you would like to see in place.
Warmest regards
---