STUDENT HIGHLIGHT: Pamela Stein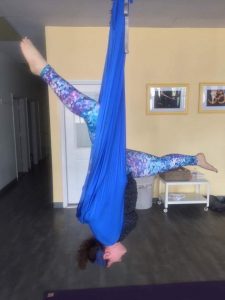 I just started a yoga practice in 2011 after a back injury/surgery and I saw an ad for Antigravity in an Athleta catalog. I went online to research & found some places. I tried it initially in 2012 wanting the benefits the claims had on spinal health. Boy, were they right!
After Antigravity came to Kinetics, which thankfully was 4 blocks away, it became a regular practice for me and helped me in all aspects of fitness & staying healthy. By taking the inversions, I noticed my flexibility and stamina were improved. I find myself counting down the time during my workday until the next AG class.
One of the things I love most is the feeling of doing something I never thought possible. I could barely do a chandelier pose the first few times. Also, the camaraderie of the other practitioners is unparalleled. I enjoy it even more so now that I got my sister Eve hooked as well.
#kineticsflow #yoga #vinyasa #flow #highlandpark #nj #yogi #yogini #aerialyoga #antigravityyoga #inspire #inversion #fly