At 6:00am this morning a steady rain poured from the awnings hanging over the studio door.
I sat in my car in front of Kinetics and Kinetics Flow waiting for Kelly (our Thursday trainer) and Marcus (our Thursday yoga instructor) to go LIVE with their classes. I'd committed myself to tagging a few people on our live Facebook page who I knew needed to take class from their homes.
I was also prepared to offer some strong coaching energy to others who I knew were fighting themselves to just be up and moving.
Kelly and Marcus were doing a great job. I posted a few encouraging words, then drove off.
Full of energy, I headed to my usual Starbucks wanting to have a usual experience of sitting at my usual table in order to work on my usual administrative tasks.
The roads leading to the Starbucks were decently busy so I thought, yes! – this will be a usual day.
I crept up on the right but was slowed by the annoying traffic light that always gets me right before the "Bucks".  It was okay, I reminded myself, I was going to have a usual day.
The parking lot was sparse. Eigh! Everyone's afraid of coming out. I said to myself, it's all good Coronavirus. I'm taking all the precautions to stay strong and healthy so stay back. My desires are to keep on keeping on and have a usual day.
I got close to the cafe and saw this!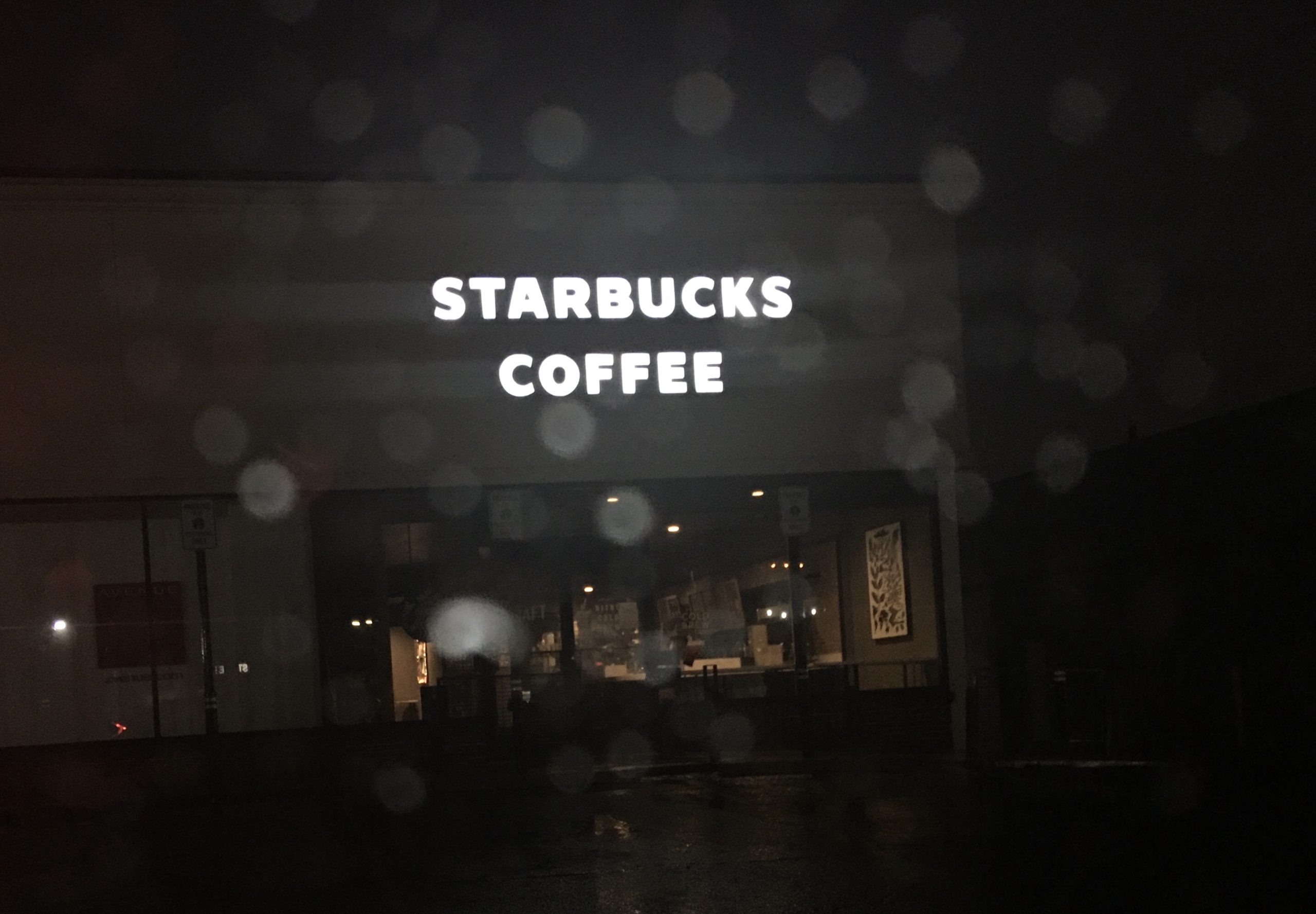 Talk about sheer disappointment, agitation and confusion about this whole Coronavirus situation!
Starbucks is NEVER closed. I sat for a bit deciding what my next move was going to be.
I made the decision, adapt I said to myself!
Create a new usual! Stay energized, lifted and strong.
I reiterated my commitments
-I will remain committed to my team!
-I will remain strong physically, mentally and emotionally!
-I will not let this consume me!
All of this happened before 7am this morning.
By now, you and I can see some truths in front of us.
The Coronavirus is taking a toll on all of us and we're all concerned (especially as a small business).
We're concerned about our families, our jobs, our bills, the economy all the extra work that needs to be done because of the Coronavirus. All of it.
And while It's clear that the Coronavirus is taking a toll, what is also clear is, now is NOT the time to throw in the towel!
Now IS this time to pull together so that we are stronger than ever before.
Now IS the time to create a NEW USUAL!
Kinetics and Kinetics Flow are your communities – your family!
When the Coronavirus blows over, we are committed to being here for you; but in order to do that, we need your help.
Stand with us as we have committed to standing with you and we will get through this together.
Our response to the Coronavirus has been to create a NEW usual, a new normal.
All our group classes have gone virtual. Are you taking advantage of them because they are there for you!
We've additionally allowed 1-3 team members to come into the studio to have private sessions and be models for our LIVE group class streaming. This could be you! Are you taking advantage of that?
If not, we'd love to have you volunteer for private training
To take advantage of private, small group training DO respond to this email or text us at 732-702-0088.
Personal fitness training is still happening either virtually or at the studio! Email or text 732-702-0088 to schedule your session.
The point here is that we want you to be stronger, happier and healthier despite the Coronavirus.
Now is NOT the time to throw in the towel and quit! Now is the time to pull together, work smarter and harder.
To make that happen, we are committed to meeting you where you are. So, team members, if your financial situation feels a bit rocky, let's work together by adjusting your program so that you can continue to build strength and endurance which are tools for living not just working out!
If you're not a team member but want to try out a FREE virtual class, DO respond to this email or send us a text 732-702-0088.
Don't throw in the towel, keep going!
There is power and strength in numbers! Everyone at both Kinetics and Kinetics Flow is committed to staying strong together. Let's continue to do this.
We are here for you! Do respond to this email with questions, comments or concerns. We've got you.
Your Trainer and Coach,
Metra Lundy