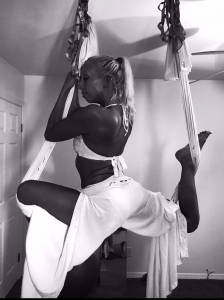 INSTRUCTOR OF THE MONTH: Gina Rosi
I was introduced to the practice of aerial arts through my love for yoga. As I dove into the practice of yoga, my curiosity led me in many directions. The art is vast and I wanted to know everything I could. When I stumbled upon AntiGravity fitness my flame was ignited. I couldn't believe that I hadn't been practicing aerial yoga my whole life. I traveled all over to get a taste of as many studios as I could.
AntiGravity helped me in more ways then I could imagine. I have a neck injury from a car accident and the second I when into my first shoulder stand I felt instant relief. Right then I new I had to learn to be a teacher. If this hammock could take my pain away with one movement, I had to share this amazing technique.
When we take an aerial fitness class we must be present. As we connect with the hammock and feel the feeling of flying, we must trust and be present for the moment. Breathe it in. You will forever see fitness in a different light. ॐ
#kineticsflow #yoga #vinyasa #flow #highlandpark #nj #yogainstructor #yogi #yogini #antigravityyoga #aerial #aerialyoga