INSTRUCTOR HIGHLIGHT: Bernadette Chiselko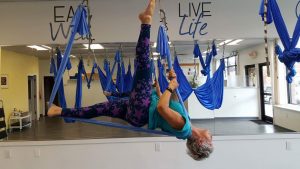 About six years ago I heard about a two hour workshop called Antigravity Restorative Yoga. Since I had been doing yoga for a while, I thought I would give it a try. By the end of the two hours I was feeling exhilarated. I knew I had to sign up for these workshops every time they came to NJ. The inversions felt wonderful and the other poses helped me move my joints in ways I didn't think possible.
I was quite overweight and much older than most of the people attending and I was not in great shape. But age, ability and size were not factors in being able to practice.
The studio where I took the workshops closed and I went several months without taking a class. I really missed it. I began a search to see if I should head to NYC occasionally to find a studio where I could practice Antigravity. That is when I found Kinetics and my passion.
Who knew an exercise practice that is so good for you could be so much fun. Newcomers to the practice should commit to at least a few classes. It will give the body and the mind an opportunity to fully experience the benefits of it.
As I've aged, my joints and back started to feel like they were aging twice as fast as the years were going by. Suspension from the hammock rejuvenated, through decompression, my joints and back. I can honestly say that, because of Antigravity Yoga, I am in the best shape of my life and my joints feel like they are at least 20 years younger. My back has even decompressed to the point where I measure in taller than I ever have (which is quite nice since I am already pretty short). Now, I feel happy, healthy, and balanced.
I can only imagine what the quality of my life would be had I not continued to attend classes. Don't let age, size, gender or flexibility dictate your quality of life. Give Antigravity a try.
#kineticsflow #yoga #vinyasa #flow #highlandpark #nj #yogainstructor #yogi #yogini #antigravityyoga #aerial #aerialyoga #foreveryoung #fly