INSTRUCTOR HIGHLIGHT: Fania Maria Tsakalakos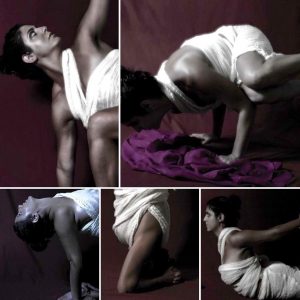 Since I was a tiny toddler, I was a tiny dancer and mover. But during my childhood, I was not afforded the opportunity to study dance as I desired. It was when I formally began training in dance that I was introduced to the healing movement and meditative system of yoga. While pursuing my B.F.A. in Dance at Rutgers University, a guest professor, Nancy Bannon, incorporated yoga into her technique classes and at times taught full yoga classes. Having pretty much started my movement training in college, my technique was poor and my body was extremely tight and inflexible… so much so that sometimes I came close to vomiting from any type of stretching. When I was introduced to yoga, I loved the challenge of it, but it was daunting and frustrating for me. I could not even do the very basic postures without struggling. Because I was also majoring in Psychology, I was during that time becoming aware of the way my childhood traumas were manifesting in my body and in my mindset.
One day in class, the professor guided us into Baddha Konasana. She encouraged us to breathe deeply, and I was doing my best to stay with the breath despite my discomfort. Everyone else's knees were so wide apart. Their heels were so much closer to their pubic bone than mine. They folded over so easily. I couldn't understand why my spine was so rounded, why my knees were so high up, why I could not fold over. While focusing on my breath, Nancy Bannon came over to me and gently touched my back, lightly running her fingers down my spine with loving kindness. In that moment, a tingling sensation ran through me, something released deep within me, and I suddenly folded over my inner thighs with a flop. As I folded over, my eyes flooded with tears similarly to the manner in which one's eyes water after getting hit in the nose. Upon realizing that I had suddenly surpassed my level of flexibility in one shot, I just began sobbing. That was my first true experiential embodiment of our mind-body-spirit connection. I realized that all of the lack of mobility in my body, all of the postural issues, all of the calcification was connected to emotional pain. I allowed myself to cry, and I was so grateful for the safe space created by the instructor. There began my journey into and exploration of yoga.
Years later, after graduating, when I lived in NYC area, my home for practicing yoga was Om Yoga Center, founded by Cyndi Lee. The style intertwined Buddhist meditations and philosophies with vinyasa yoga. When I finally decided in the summer of 2007 to become certified in yoga, I had gone through a painful divorce and had been recovering from ACL replacement knee surgery. I originally participated in the certification in order to heal emotionally and spiritually from the divorce and physically from the surgeries. I naturally chose the Joining Heaven and Earth 200-hr certification at Om Yoga Center. The healing experience was so profound that I felt a huge surge of gratitude… And I felt compelled to share the benefits of yoga by teaching, teaching, teaching, and teaching.
Although yoga has obvious wonderful physical fitness benefits, it's important to understand that there is more to yoga than asana, than posture, than physical fitness. The meditations, the spiritual practices and principles, the pranayama (breathing) exercises provide a much more deeper experience and connection to the self and the world. When I practice on my mat, I endeavor to then take what I've learned on the mat to off the mat, into my everyday life. In other words, as the observer of myself, I can know better where my knee-jerk reactions are and how I am able through conscious endeavor and discipline to harness these reactions. This is important in our everyday life. On a more practical level, I find meditation and various pranayama exercises, as well as super simple postures/stretches to be my anchors throughout the day. Controlling my breath and increasing my breath capacity through pranayama has been an amazing stress reducer in my everyday conundrum and has increased my physical and spiritual/emotional endurance. I used yoga during my pregnancy and birth. But it has been since the birth, in dealing with an extremely stressful, unforeseen, and unfair custody battle that yoga has been pivotal to my spiritual and psychological survival. In fact, now that I'm back finally to teaching, it's beneficial for me to bring my focus onto others' wellbeing in order to remind myself of the inherent goodness in the world and to remind myself that my son and I will be alright… This too shall pass.
Anyone just being introduced to yoga should be prepared that some of the postures are very extreme and without good range of motion can cause injury. I have two tips for newbies: 1) I suggest newbies either begin with a few privates or start with a beginner hatha class rather than a vinyasa class. This will make it easier to learn the alignment/form in basic postures and build a good foundation for progression. 2) If you are very tight but craving to begin yoga, I highly suggest incorporating a daily practice of foam rolling and use of self-massage with balls. This will open up the myofascial system to better accomplish asana practice.
#kineticsflow #yoga #vinyasa #flow #highlandpark #nj #yogainstructor#yogi #yogini