Tofu is one of the most nutritious foods in the world: Tofu contains all 8 essential amino acids. It is rich in magnesium, phosphorus and selenium too (which helps to trigger happy hormones). Tofu also contains copper, vitamin B1, calcium and iron.
Tofu is one of the oldest foods in the world: It is said that almost 2000 years ago, tofu was discovered accidentally by a Chinese cook, who curdled soy milk using nigari seaweed. It was then introduced to Japan and called okabe.
Tofu helps you shed off weight: Half cup of tofu contains only 94 calories, as compared to the whopping 300 calories in the same amount of beef.
There is more than one type of tofu available: Like cheese, there is more than one variation available. And the most popular is silken tofu, which is basically Japanese style. It isn't pressed or drained and is rather custard like in texture and very soft. Apart from this, regular tofu too comes in different textures like extra soft, firm, medium and extra firm too. There is also a super firm variety available that has very little water content
.
Fun Fact ~ 12,672 Blocks of tofu lined up end-to-end lengthwise is equal to one mile!
Fiesta Bowl with BBQ Tofu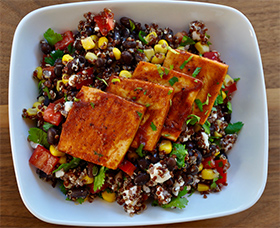 When it comes to your diet, small and steady changes made in the long term will make the biggest impact on your fat loss goals. Take this fiesta bowl, for example. We've taken a traditional burrito bowl and have lightened it up by using quinoa instead of rice. Feel free to top this flavorful bowl with chicken or steak, if you'd prefer rather than tofu. Enjoy!
Servings: 12
Here's what you need…
1 (14oz) extra firm tofu, pressed and sliced
¼ cup BBQ sauce
2 cups red quinoa, cooked
1 (15oz) can black beans, drained and rinsed
1 small red bell pepper, seeded and diced
½ cup canned corn
¼ cup goat cheese, crumbled
2 Tablespoons fresh cilantro, chopped23
1 teaspoon olive oil
1 teaspoon fresh lime juice
sea salt and black pepper to taste
Instructions:
Preheat the oven to 350 degrees F. Lightly grease a casserole pan with olive oil. Arrange the tofu slices in a single layer in the pan and bake for 30 minutes, flipping each slice halfway through. Cover the tofu with the BBQ sauce, turning each slice to coat each side. Bake for 15 more minutes. Set aside.
In a large bowl combine all of the remaining ingredients, and top with slices of the BBQ tofu. Enjoy!
Nutritional Analysis: One serving equals: 266 calories, 4g fat, 67mg sodium, 38g carbohydrate, 8g fiber, and 15g protein