Tahini is a seed butter made from sesame seeds that are hulled, ground, and toasted.
According to theUSDA Nutrient Database, a 2-tablespoon serving of tahini from roasted sesame seeds contains 178 calories, 16 grams of fat, 6 grams of carbohydrates (3 grams of fiber and 0 grams of sugar) and 5 grams of protein.
That same 2 tablespoon serving provides 30% of your daily thiamin needs, 24% ofmagnesium, 22% of phosphorus, 14% of iron, and 12% of calcium.
The high magnesium content in tahini is beneficial for maintaining healthy bones.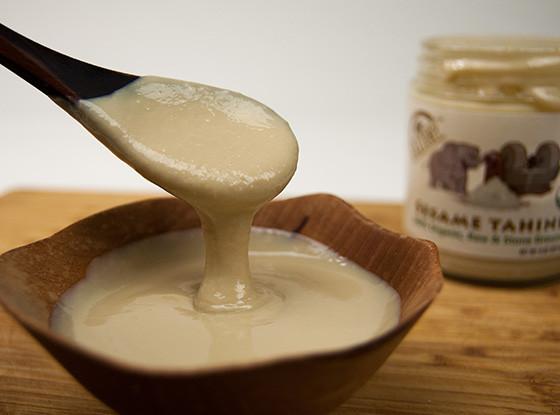 Fun Fact: It is commonly used in North African, Greek, Iranian, Turkish, and Middle Eastern cuisine.
Fun Fact: A 1 oz. serving of sesame seeds contains three times more iron than 1 oz. of beef liver, which is commonly known as a high-iron food.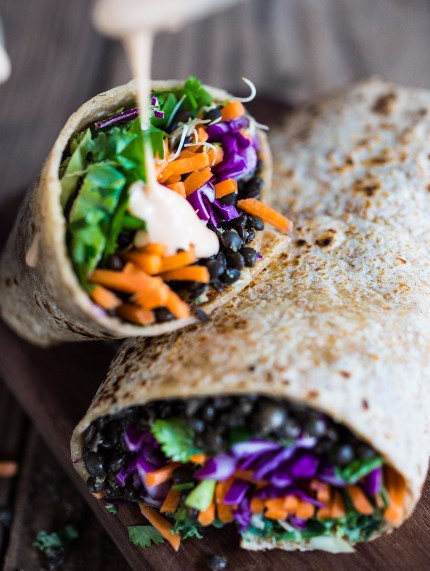 SPICY LENTIL TAHINI WRAP
Servings: 4
INGREDIENTS
1 cup dry lentils
1 teaspoon cumin
1 teaspoon coriander
1 teaspoon olive oil
salt to taste
—
2 Tablespoons tahini paste
3 Tablespoons warm water
2 Tablespoons fresh lemon juice
1-2 garlic cloves finely minced
½ teaspoon kosher salt
cracked pepper
1 teaspoon sriracha sauce
—
1 ½ Cups shredded cabbage
1 ½ Cups shredded carrots
3 C chopped cilantro and scallions
2 Tablespoons toasted sunflower (or pumpkin seeds) – optional
½ Sliced avocado (optional)
4 x 12 inch tortillas, warmed
INSTRUCTIONS
1.Cook lentils in a pot of water until cooked al-dente. Drain well and season with cumin, coriander olive oil and salt to taste.
2.While lentils are cooking, make tahini sauce. In a small bowl, using a fork or tiny whisk, mix tahini paste, warm water, olive oil, lemon juice, garlic, salt pepper, and sriracha sauce, until creamy.
3.Prep all veggies.
4.When ready to make wraps, heat tortillas over a gas stove top, set to medium, flipping and turning frequently until tortillas are warm and pliable, or toast in a toaster oven. Do not over toast, or they will become tough and hard to roll. Dived lentils, cilantro, scallions, and veggies and roll up like a small burrito, Cut in half at a diagonal. Serve with the spicy tahini sauce on the side, spooning it in as you eat.
NUTRITION INFORMATION
Serving size: 1 wrap Calories: 381 Fat: 13.9 grams Saturated fat: 2.1 Carbohydrates: 43.5Sugar: 4.5g Sodium: 387 mg Fiber: 12.1 Protein: 18.4 Cholesterol: 0