Paprika is a ground spice made from red air-dried fruits of the larger and sweeter varieties of the bell pepper or sweet pepper plants, sometimes with the addition of more pungent varieties.
Used for flavor and color, it is the fourth most consumed spice in the world and often appears in spice mixes, rubs, marinades, stews, chilis, and as a garnish.
Most of the paprika sold in grocery stores is simply labeled "paprika." Its origins may be Hungarian, Californian, or South American, and it is sometimes mixed with other chiles like cayenne.
According to Nutrition Data sources, paprika is a good source of Thiamin, Magnesium, Phosphorus, Copper and Manganese, and a very good source of Dietary Fiber, Vitamin A, Vitamin C, Vitamin E (Alpha Tocopherol), Vitamin K, Riboflavin, Niacin, Vitamin B6, Iron and Potassium.
​                                 
Fun Fact –  You can make Paprika at home!  Dehydrate a variety of peppers, put into a spice grinder, sift through sieve to remove chunks, then store in a glass jar!
Slow Cooker Pulled Chicken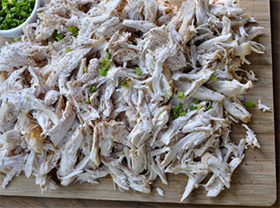 ​Having healthfully prepared protein on hand for on-the-go meals is a MUST when it comes to packing healthy meals to eat throughout your day. Put 4 to 6 ounces of protein (like this amazing pulled chicken!), a handful of cooked veggies and a handful of fresh arugula in a little Tupperware and drizzle on a bit of homemade balsamic dressing for a simple, quick, get-lean meal.
Eating small meals every few hours consisting of protein and veggies is the most reliable way that I know of to drop body fat and maintain a steady flow of energy throughout the day. It's pretty darn tasty too, when you make the meals yourself!
Courtesy of RealHealthyRecipes.com
Servings: 4
Here's what you need
2 ½ lbs bone-in, skin-on chicken breasts
1 ½ teaspoon sea salt
½ teaspoon black pepper
1 cup chicken broth
1 Tablespoon tomato paste
½ teaspoon sweet paprika
1 teaspoon minced garlic
2 bay leaves
Instructions
Rinse the chicken breast and pat dry. Season with the salt and pepper on all sides.
In a slow cooker, whisk the chicken broth, tomato paste, paprika and garlic. Add the seasoned chicken breast and the bay leaves. Cover and cook on high for 3 hours, flipping the chicken after 1 hour.
Transfer the chicken to a cutting board and let cool for 20 minutes. Strain the broth. Use two forks to gently shred the chicken, discarding skin, fat, cartilage and bones. Store the chicken and broth separately in the fridge to use for up to 4 days. Enjoy!
Nutritional Analysis
One serving equals: 191 calories, 5g fat, 3g carbohydrate, 1g sugar, 960mg sodium, 0g fiber, and 34g protein.