Fennel is a bulbous vegetable with a tall, wispy, fronded top that looks like dill. The fronds can be used in salads, but the main attraction and flavor of fennel is the bulb itself.
The bulb, stalk, leaves and seeds are all edible. Belonging to the Umbellifereae family of vegetables, fennel is closely related to parsley, carrots, dill and coriander.
Like many of its fellow spices, fennel contains its own unique combination of phytonutrients—including the flavonoids rutin, quercitin, and various kaempferol glycosides—that give it strong antioxidant activity.
Fennel bulbs are an excellent source of vitamin C. Vitamin C is the body's primary water-soluble antioxidant, able to neutralize free radicals in all aqueous environments of the body
The health benefits of fennel include relief from anemia, indigestion, flatulence, constipation, colic, diarrhea, respiratory disorders, and menstrual disorders.
Some of the components of the essential oils in fennel are stimulants which stimulate secretion of digestive and gastric juices, while reducing inflammation of the stomach and intestines, and facilitating proper absorption of nutrients from the food.
Potassium found in fennel bulbs and seeds is an electrolyte, which means that it facilitates increased electrical conduction throughout the body.
Fennel is a vasodilator, which means more oxygen reaches the brain and neural activity can work at optimal functionality.
Fun Fact ~ India is the greatest manufacturer of fennel in the world.People in India and Pakistan chew sugar-coated seed of fennel after meal to facilitate digestion and eliminate bad breath.
Squash and Fennel Salad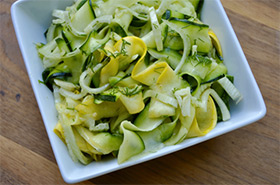 ​This salad wins the award of the 
most refreshing side dish ever!
The combined essence of fennel and lemon give ordinary zucchini extraordinary flavor in this simple, invigorating salad. Consider it your new go-to side dish to enjoy with grilled steak or chicken.
Here's another flavorful reason to ask more from your side dishes. Do you really need traditional, grain-filled noodle salads when it's possible to create a veggie noodle salad like this instead? This one tastes better and is better for you…one bite and you'll see what I mean.
Courtesy of RealHealthyRecipes.com
Servings: 4
Here's what you need
For the Squash and Fennel Salad
2 green zucchini
1 yellow squash
1 fennel bulb and fronds
1 teaspoon coarse salt
For the Lemony Dressing
2 Tablespoons olive oil
1 Tablespoon lemon juice
½ teaspoon lemon zest
½ teaspoon garlic, minced
2 Tablespoons fennel fronds, minced
sea salt and black pepper to taste
Instructions
Use a veggie peeler to turn the zucchini and squash into long, flat noodles. Cut the fennel bulb in half, and then slice into thin half moons.
Throw the squash noodles and fennel slices into a large colander and sprinkle with the coarse salt. Mix the salt into the veggies and let sit for 20 minutes over a plate. Squeeze the veggies gently to release excess water and transfer to a salad bowl.
In a small bowl combine the dressing ingredients. Toss the dressing with the veggies and chill until serving. Enjoy!
Nutritional Analysis
One serving equals: 81 calories, 7g fat, 5g carbohydrate, 2g sugar, 489mg sodium, 2g fiber, and 1g protein.