Celery seedsare found in the flowers of the well-known celery plant.
These seeds contain many healthy compounds such as flavonoids, antioxidants, linoleic acid, and omega-6 fatty acids. An important natural flavonoid, Apigenin, is also extracted from celery seed which acts as a neurogenesis stimulator in adults and may help in the treatment of many neurological diseases.
Celery Seed has been effectively used in relieving indigestion, upset stomach, bloating and flatulence.
Studies show that Celery Seed acts as a vasodilator by widening blood vessels and improves circulation. It also has diuretic activity, while helps reduce fluid volume in the body. When these two activities occur together, the result is lower blood pressure levels.
Celery Seed tea is popular for weight loss as it helps boost your metabolism.
The anti-inflammatory, diuretic, and analgesic activity of celery seed helps in the treatment of arthritis, gout and painful muscles and joints.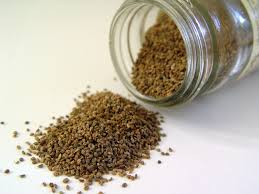 Fun Fact: It takes just one ounce of celery seeds to produce an acre of celery.