​Cauliflower is a member of the cruciferous vegetable (or Brassicaceae) family- along with broccoli, cabbage, kale, brussels sprouts.
 Due to its special combination of phytochemicals called carotenoids, tocopherols, and ascorbic acid, cauliflower highly correlated with preventing chronic diseases including cardiovascular diseases, diabetes, neurodegenerative disorders, and various forms of cancers because it helps to decrease the inflammation that causes these problems.
A one cup serving is a mere 29 calories and has close to zero grams of fat, sugar, and sodium.  However, it does offer 73% of the daily recommended amount of vitamin C,  19% of vitamin K,  11% fiber, and 9% protein.
Cauliflower is gaining popularity as a rice substitute in many traditional recipes.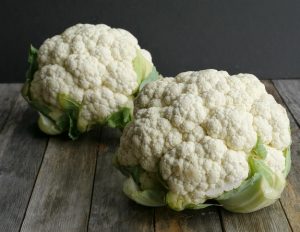 Fun Fact ~   A world's record was set in 2014 for the largest cauliflower.  It weighed 60 pounds, 9.3 ounces, and was six feet wide measured across the leaves.
Taco Roasted Cauliflower
​Wondering what side dish to serve with your speedy dinner? Roasting cauliflower (or broccoli) is a phenomenal veggie side dish that's quick and tasty. The classic way is to roast with simply olive oil, minced garlic and sea salt. It only takes a few moments of prep work and then roasts in the oven for 20 or so minutes while you pull dinner together. The florets come out crispy and savory, which is a nice change from soft and soggy that we often encounter.
This version below uses taco spices to amp up the flavor and excitement of this classic cauliflower dish. Enjoy!
Courtesy of RealHealthyRecipes.com
Servings: 8
Here's what you need
3 heads cauliflower
¼ cup olive oil
1 teaspoon sea salt
4 teaspoons minced garlic
2 teaspoons chili powder
1 teaspoon sweet paprika
½ teaspoon ground cumin
½ teaspoon onion powder
¼ teaspoon garlic powder
1 teaspoon fajita seasoning
Instructions
Preheat the oven to 425 degrees F.
Wash the cauliflower heads and remove the stem and leaves. Cut into florets and then slice the florets into thin, flat pieces.
Place the florets in a large bowl and toss with the remaining ingredients. Spread over two large rimmed baking sheet and roast in the preheated oven for 25 minutes. Enjoy!
Nutritional Analysis
One serving equals: 86 calories, 6g fat, 6g carbohydrate, 2g sugar, 292mg sodium, 3g fiber, and 3g protein.