Brussels Sprouts are an excellent nutrient dense side dish to add to your daily meals. A one cup serving has 56 calories, 3.98 g Protein, 11.08g Carbohydrates, .78g Fat, and 4.06g Fiber!
An important anti-inflammatory nutrient found in Brussels sprouts is vitamin K. Vitamin K is a direct regulator of inflammatory responses, and we need optimal intake of this vitamin in order to avoid chronic, excessive inflammation.
Another anti-inflammatory component in Brussels sprouts is not one that you might expect. It's their omega-3 fatty acids. We don't tend to think about vegetables in general as important sources of omega-3s, and certainly no vegetables that are as low in total fat as Brussels sprouts. But 100 calories' worth of Brussels sprouts (about 1.5 cups) provide about 480 milligrams of the most basic omega-3 fatty acid (called alpha-linolenic acid, or ALA).
To keep the most nutrient value in this amazing vegetable, the best cooking method is steaming. The fiber-related components in Brussels sprouts do a better job of binding together with bile acids in your digestive tract when they've been steamed. When this binding process takes place, it's easier for bile acids to be excreted, and the result is a lowering of your cholesterol levels.
The same nutrient in these sprouts that help us fight cancer is the same that gives it the odor some find offensive when over cooked. Glucosinolate helps protect against various reproductive cancers as well as bladder cancer.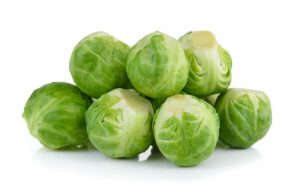 Fun Fact ~ In Wales in October 1992,  Bernar Lavery set a Guinness World Record by growing a "sprout" weighing 18 pounds, 3 ounces.