Arugula
Arugula is an excellent source of several nutrients that support eye health, including beta-carotene, a carotenoid your body can convert into vitamin A.

Arugula contains significant amounts of the three specific minerals that help control your blood pressure — calcium, magnesium and potassium.

Arugula is richer in calcium and magnesium — a 2-cup serving of the leafy green vegetable provides 6 percent and 5 percent of the recommended daily values for calcium and magnesium, respectively, based on a 2,000-calorie diet.

50 ounces of raw arugula is only 25 calories with 3 grams of protein, 4 carbs, and 1 gram of fat!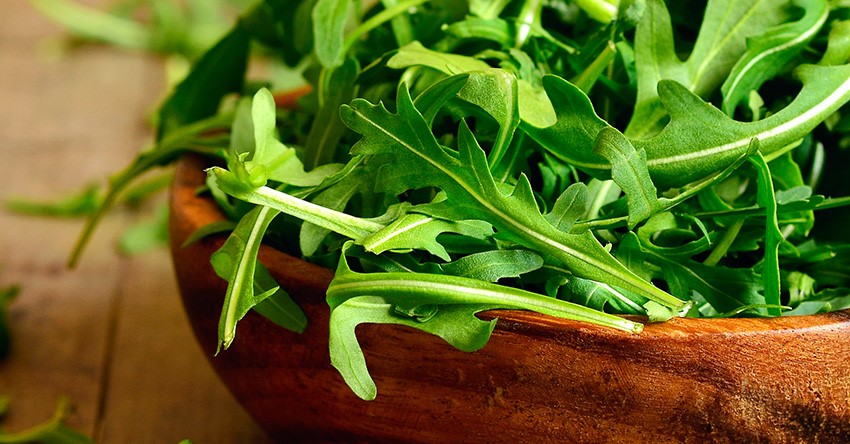 Fun Fact:  Arugula is a tasty and popular ingredient on gourmet pizza! YUM!
Fun Fact: Another name for arugula is rocket. So if you are reading an Italian recipe that calls for and handful of rockets, they mean this spicy green – arugula!
Homemade Burrito
Here's a healthy burrito recipe to sink your teeth into. Whole grains, lean protein and crunchy veggies make this a recipe that you'll come back to time and again. Serve with a side of your favorite salsa.
Servings: 1
Here's what you need…
1 sprouted grain, flourless tortilla
1 Tablespoon hummus
⅓ cup cooked brown rice
¼ cup cooked black beans
½ cup cooked chicken, chopped (or baked tofu)
2 Tablespoons fresh corn kernels
2 Tablespoons chopped cucumber
¼ cup shredded arugula
3 cherry tomatoes, chopped
Warm the tortilla in a dry skillet. Spread the hummus evenly over the tortilla.
Top the tortilla with rice, beans, chicken and veggies.
Fold the two sides of the tortilla in over the filling, then flip up the bottom edge and roll tightly.
Nutritional Analysis: One serving equals: 380 calories, 8g fat, 45g carbohydrate, 7g fiber, and 31g protein.