Great for the lymphatic system, apple cider vinegar helps to break up mucus throughout the body and cleanse the lymph nodes.
This vinegar is rich in natural enzymes that can help rid your body of candida — yeasts that are attributed to thrush in humans. Candida is also blamed for creating symptoms of fatigue, poor memory, sugar cravings, and yeast infections.
ACV may help reduce heartburn.
Daily diluted intake of acetic acid, a main ingredient in ACV can be attributed to limited but significant weight-loss.
During these super-hot and sunny months, sunburn happens, add 1 cup of apple cider vinegar to your bath, and soak for 10 minutes to eliminate discomfort from sunburn.
Summer Chicken Stir Fry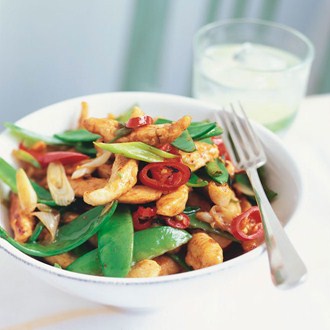 Ingredients:
1 head cauliflower
¼ cup coconut aminos¼ cup mirin (sweet rice wine)
1 Tablespoon coconut nectar
1 Tablespoon apple cider vinegar
2 Tablespoons organic chicken broth
3 teaspoons sesame oil, divided
1 pound skinless, boneless chicken breasts
8 oz. snow peas, halved lengthwise diagonally
1 bunch green onions, cut into 1-inch pieces
Directions:
1. Wash cauliflower, discard the leaves, and chop into small pieces. Grate the pieces with a food processor. In a large skillet heat the coconut oil over medium. Add the shredded cauliflower. Sauté for about 5 minutes, until tender. Season with salt and pepper. Serve as you would traditional rice.
2. Combine coconut aminos, mirin, coconut nectar, apple cider vinegar and chicken broth in a small saucepan; bring to a boil. Reduce heat; simmer 3 minutes. Remove from heat.
Heat a large nonstick skillet or wok over medium-high heat. Add 2 teaspoons toasted sesame oil to pan; swirl to coat. Add chicken breasts to pan; cook 3 minutes on each side or until browned. Transfer to a cutting board; cool slightly. Cut into 1-inch slices.
3. Return pan to medium-high heat; add remaining 1 teaspoon toasted sesame oil to pan. Add snow peas and onions; sauté 2 minutes. Add coconut amino mixture and chicken to pan; cook 2 minutes or until liquid is syrupy and chicken is thoroughly heated, stirring frequently. Place 1 cup rice in each of 4 shallow bowls; top each serving with 1 cup chicken mixture.