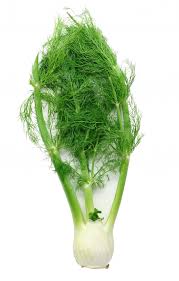 FENNEL
This hearty vegetable contains anethole, a phytonutrient that helps prevent inflammation and cancer.
Because of its high fiber content, fennel may help reduce cholesterol. The fennel bulb may aid in the prevention of colon cancer by removing toxins from the colon.
As a good source of the B-Vitamin Folate which helps convert homocysteine into other less harmful agents. Homocysteine is found to increase the risk for Heart Attack and Stroke.
All parts of this vegetable are edible.
Fennel is very fragrant, smelling much like licorice and anise.
*Fun Fact- Fennel can grow to be up to 5 feet tall.
Recipe:
Fennel and Orange Salad
Here's a tasty yet citric quick spring Fennel salad your taste buds will surely love!
Makes  4 Servings
Here's what you need…
1 (6 ounce) package of Dole Tender Blend Salad
2 oranges peeled and cut into half slices
1 fennel bulb, trimmed, cored, and thinly sliced horizontally
8 pitted Kalamata olives halved
Orange Vinaigrette (recipe included below)
Directions for Vinaigrette:
**Whisk together 1/4 cup orange or blood orange juice, 1/4 cup vegetable oil, 2 tablespoons lemon juice, 2 tablespoons rice vinegar, 2 teaspoons sugar, 1 teaspoon Dijon-style mustard, salt and ground black pepper, to taste until blended. Makes about 3/4 cup.**
Directions for Salad:
1. Combine salad, oranges, fennel and olives in large bowl.
2. Toss with Fresh Orange Dressing, to coat, as desired.
3. Refrigerate any remaining vinaigrette
Nutritional Analysis: 
Calories Per One Serving: 67.5 Total Fat: 1.7g
Sodium: 95.1mg Potassium: 276.6mg
Total Carbohydrates: 13.5 mg Protein: 1.1