CHICKPEAS
Also known as Garbanzo Beans, chickpeas are jam packed with dietary fiber.
Like other legumes, chickpeas are prized for their high protein content and also contain several key vitamins and minerals.
Choline, a very important and versatile nutrient in chickpeas help with sleep, muscle movement, learning and memory. Choline also helps to maintain the structure of cellular membranes, aids in the transmission of nerve impulses, assists in the absorption of fat and reduces chronic inflammation.
Garbanzos are an excellent source of the trace mineral manganese, which is an essential co-factor in a number of enzymes important in energy production and antioxidant defenses. Just one cup of garbanzo beans supplies 84.5% of the daily value for this mineral.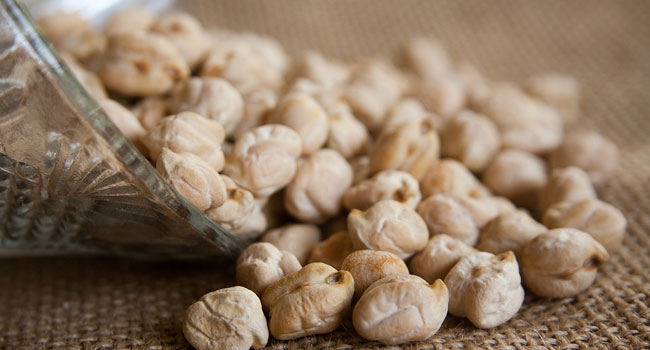 Festive Hummus (Sun-Dried Tomato and Basil)
While the red and green speckles give this homemade hummus a jolly look, it's the taste that makes it unforgettable. This dip makes the perfect party take-along. Serve it up with whole grain pita bread or fresh cut veggie sticks.
Servings: 12
Here's what you need:
1 (15 oz) can garbanzo beans
1 Tablespoons tahini
1 Tablespoon olive oil
1 Tablespoon lemon juice
1 Tablespoon water
2 garlic cloves, mashed
1/4 teaspoon salt
2 teaspoons soy sauce
4 sun-dried tomatoes
1/4 cup basil leaves
Throw all the ingredients into a food processor and combine until smooth.
Nutritional Analysis: One serving equals: 75 calories, 2g fat, 11g carbohydrate, 3g fiber, and 3g protein.