This May-August seasonal fruit is packed with Vitamin A which promotes good vision


Full of Antioxidants, apricots quench free radical damage to cells and tissues

Dried apricots are high in dietary fiber which helps the flow of digestion

Good source of Vitamin A which helps prevent against age-related eye disorders

High in soluble fiber which helps lower LDL (bad) cholesterol and thus reduces the risk for heart disease.

High in potassium which helps our maintain healthy blood pressure.
*Fun Fact: The apricot originated in china, it was introduced to the US by Spanish explorers in the 18th century.
Mediterranean Breakfast Quinoa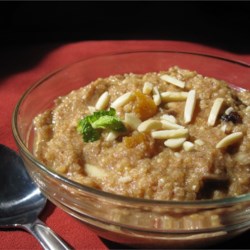 Makes 4 servings
Ingredients:
1/4 cup chopped raw almonds
1 teaspoon ground cinnamon
1 cup quinoa
2 cups milk
1 teaspoon sea salt
1 teaspoon vanilla extract
2 tablespoons honey
2 dried pitted dates, finely chopped
5 dried apricots, finely chopped
Directions:
Toast the almonds in a skillet over medium heat until just golden, 3 to 5 minutes; set aside.

Heat the cinnamon and quinoa together in a saucepan over medium heat until warmed through. Add the milk and sea salt to the saucepan and stir; bring the mixture to a boil, reduce heat to low, place a cover on the saucepan, and allow to cook at a simmer for 15 minutes. Stir the vanilla, honey, dates, apricots, and about half the almonds into the quinoa mixture. Top with the remaining almonds to serve.
Nutrition Facts
Total Fat: 8g
Sat Fat: 0 g
Cholesterol: 10
Sodium: 0mg
Potassium: 180mg
Carbs: 54g
Dietary fiber: 1g
Sugars: 11g
Protein: less than 1g