---
---
Let your light shine
She was a tall, well-dressed woman with tightly curled hair and neatly manicured nails. I escorted her to our consult room. She arrived just in time for her fitness assessment.
She spoke. "Whew! It's been a full day. My job is very demanding. I work about sixty hours a week, rarely take lunch, and commute an hour each way. After work, I race home to make dinner, help my kids with their homework, and finally spend a little time with my husband. I'm here because my energy is low, I'm feeling blah, and I need to do something about it. I thought if I started working out and eating healthy I might feel better.
Is this you? If you said yes, you are not alone. I meet hundreds of women who express some version of this reality daily.
So, what's a woman to do; how does the change that she wants and needs occur?
We women share a similar hat in feeling like we have to manage it all. Here is what's worked for me and hundreds of clients that I've worked with:
Brighten your light! You will be a better employee, mother, and wife for doing it.
1. Recognize that only you know when your light is dim and only you can do something about it.
2. When more self-care is needed, take ownership of your need for a recharge.
3. Carry-out your recharge by any means necessary.
Proper nutrition and consistent exercise matter.
1. Healthy, nutrient-dense foods fuel us – so eat mindfully and with purpose
2. A simple strength training circuit has no boundaries; 20 minutes of effort at home, at work, or at your fitness studio will take your body and confidence a long way
3. Focused work pays off with time and effort.
You are capable of greater giving when you bright, so DO take care of you.
---
​Learn to Make it: Clean-Eating is a Lifestyle (Food-Tasting Workshop) – January 20, 2019

​Every third Thursday of the month, Join Tracey for some delicious food-tasting! From 2pm – 4pm, learn to make a new dish that'll leave you light yet satisfied.
Kinetics 5K Fun Run – February 3, 2019
​Every month, we've been hosting a Sunday morning 5k every first Sunday of the month. Keep your fitness resolutions and take a lap around Highland Park with your friends! One at 7:30am and one at 9:00am!
Partner Yoga – February 14, 2019
Love yourself a little this evening by trying something new! Yoga with a partner redefines trust, strength, and excitement. Go through flows and poses with someone else's support! No partner required – we'll pair you up there! 7:00pm (replaces Hot Yoga)
---
Fitness & Fashion Tips and Tricks! Check out the video below to get your leg-sculpting tips and fashion tricks (perfect for sculpted legs in the making)! Join us for our next episode on how to tone your whole body and look great in a bathing suit!
---
Cucumbers are 96% water. We need to keep ourselves hydrated in order to keep our body systems functioning properly.  Dehydration can cause muscle cramps, dry mouth, and fatigue.
These crisp vegetable is packed with Vitamin A, which is good for the eyes and is one of the antioxidants which our body needs to ward off cancer free radicals.
Cucumbers are also high in Vitamin K, which plays a key role in helping the blood clot and prevent excessive bleeding.
The potassium in cucumbers help in the development of muscle tissue and helps maintain the electrical movement in our heart.
The green skin of the cucumber has a cooling and anti-inflammatory effect on our skin and is used to help alleviate sunburn.
Many skin products contain cucumber juice because it restores the health of skin cells and connective tissue. It can reduce redness and swelling around the eyes and can help reduce acne.
When eaten regularly, cucumbers have been shown to reduce uric acid, thus precenting some types of kidney or bladder stones.
Cucumbers also have a small, but reliable amount of phosphorous. Phosphorous helps maintain bones and teeth and helps your body store the energy you get from carbohydrates, protein, and fat.
​Fun Fact: Cucumbers age faster when stored with melons, tomatoes, and apples!
Italian Pasta Salad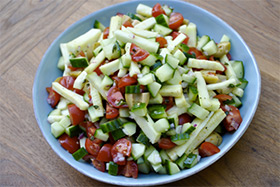 ​This isn't your mama's pasta salad recipe! Welcome to a whole new pasta salad, one that has ditched the chewy pasta for crisp, fresh veggies, and contains all of the Italian flavors that you love.
It's a salad worth getting excited about! It's hard to argue with fresh ingredients, and this salad is bursting with 'em!
Courtesy of RealHealthyRecipes.com
Servings: 12
Here's what you need
For the Italian Vinaigrette
⅓ cup white wine vinegar
2 Tablespoons olive oil
1 Tablespoon fresh oregano, chopped
2 teaspoons garlic, minced
½ teaspoon sea salt
¼ teaspoon black pepper
⅛ teaspoon liquid stevia
For the Salad
4 zucchini, peeled and cut into thin, 1-inch pieces
2 English cucumbers, seeded and chopped
2 cups cherry tomatoes, quartered
1 cup green olives, quartered
⅓ cup red onion, finely minced
Instructions
Whisk together all of the vinaigrette ingredients in a small bowl.
Combine all of the salad ingredients in a large salad bowl. Toss with the vinaigrette and chill before serving. Keeps in the fridge for several days. Enjoy!
Nutritional Analysis
One serving equals: 81 calories, 4g fat, 9g carbohydrate, 3g sugar, 504mg sodium, 3g fiber, and 2g protein
---
Cauliflower is a member of the cruciferous vegetable (or Brassicaceae) family- along with broccoli, cabbage, kale, brussels sprouts.

 Due to its special combination of phytochemicals called carotenoids, tocopherols, and ascorbic acid, cauliflower highly correlated with preventing chronic diseases including cardiovascular diseases, diabetes, neurodegenerative disorders, and various forms of cancers because it helps to decrease the inflammation that causes these problems.

A one cup serving is a mere 29 calories and has close to zero grams of fat, sugar, and sodium.  However, it does offer 73% of the daily recommended amount of vitamin C,  19% of vitamin K,  11% fiber, and 9% protein. 

Cauliflower is gaining popularity as a rice substitute in many traditional recipes.
​
Fun Fact ~   A world's record was set in 2014 for the largest cauliflower.  It weighed 60 pounds, 9.3 ounces, and was six feet wide measured across the leaves.
​
Garlic Mashed Cauliflower with Kale
​This recipe is a really lightened up replacement for mashed potatoes, with the enhanced flavors of garlic and kale. It's incredibly quick and simple to throw this side dish together, and there are many ways in which the flavor could be tweaked and adjusted to your liking.
Courtesy of RealHealthyRecipes.com
Servings: 6
Here's what you need
1 head cauliflower
1 bunch curly kale
4 cloves garlic, smashed
3 Tablespoons coconut cream
1 Tablespoon coconut oil
¼ teaspoon sea salt
black pepper to taste
2 Tablespoons chives, snipped
Instructions
Bring a large pot of salted water to boil.
Separate the cauliflower into florets and chop the stem. Stem the kale and chop the leaves.
Add the cauliflower and garlic to the boiling water for 8 minutes. Stir in the kale and continue to boil for 5 minutes. Drain thoroughly.
Place the drained cauliflower, kale and garlic in a food processor along with the remaining ingredients. Pulse until a creamy consistency is reached. Taste for salt and add more as needed. Enjoy
Nutritional Analysis
One serving equals: 76 calories, 5g fat, 8g carbohydrate, 3g sugar, 112mg sodium, 3g fiber, and 3g protein.
---
Paprika is a ground spice made from red air-dried fruits of the larger and sweeter varieties of the bell pepper or sweet pepper plants, sometimes with the addition of more pungent varieties.
Used for flavor and color, it is the fourth most consumed spice in the world and often appears in spice mixes, rubs, marinades, stews, chilis, and as a garnish.
Most of the paprika sold in grocery stores is simply labeled "paprika." Its origins may be Hungarian, Californian, or South American, and it is sometimes mixed with other chiles like cayenne.
According to Nutrition Data sources, paprika is a good source of Thiamin, Magnesium, Phosphorus, Copper and Manganese, and a very good source of Dietary Fiber, Vitamin A, Vitamin C, Vitamin E (Alpha Tocopherol), Vitamin K, Riboflavin, Niacin, Vitamin B6, Iron and Potassium.
​                                 
Fun Fact –  You can make Paprika at home!  Dehydrate a variety of peppers, put into a spice grinder, sift through sieve to remove chunks, then store in a glass jar!
Slow Cooker Pulled Chicken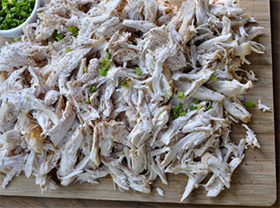 ​Having healthfully prepared protein on hand for on-the-go meals is a MUST when it comes to packing healthy meals to eat throughout your day. Put 4 to 6 ounces of protein (like this amazing pulled chicken!), a handful of cooked veggies and a handful of fresh arugula in a little Tupperware and drizzle on a bit of homemade balsamic dressing for a simple, quick, get-lean meal.
Eating small meals every few hours consisting of protein and veggies is the most reliable way that I know of to drop body fat and maintain a steady flow of energy throughout the day. It's pretty darn tasty too, when you make the meals yourself!
Courtesy of RealHealthyRecipes.com
Servings: 4
Here's what you need
2 ½ lbs bone-in, skin-on chicken breasts
1 ½ teaspoon sea salt
½ teaspoon black pepper
1 cup chicken broth
1 Tablespoon tomato paste
½ teaspoon sweet paprika
1 teaspoon minced garlic
2 bay leaves
Instructions
Rinse the chicken breast and pat dry. Season with the salt and pepper on all sides.
In a slow cooker, whisk the chicken broth, tomato paste, paprika and garlic. Add the seasoned chicken breast and the bay leaves. Cover and cook on high for 3 hours, flipping the chicken after 1 hour.
Transfer the chicken to a cutting board and let cool for 20 minutes. Strain the broth. Use two forks to gently shred the chicken, discarding skin, fat, cartilage and bones. Store the chicken and broth separately in the fridge to use for up to 4 days. Enjoy!
Nutritional Analysis
One serving equals: 191 calories, 5g fat, 3g carbohydrate, 1g sugar, 960mg sodium, 0g fiber, and 34g protein.
---
Folate, whish a B Vitamin richly found in asparagus, is essential to a healthy heart. Folate also helps prevent spina bifida and birth defects.
A diuretic, asparagus helps our body reduce swelling and arthritis
The carbohydrate inulin found in asparagus helps increase the growth of beneficial bacteria in our gut while inhibiting the proliferation of harmful bacteria – which helps to prevent colon cancer.
High in vitamin K, which keeps our bones strong and prevents calcium from building up to high in our tissues.  Too much calcium can cause a stroke and/or heart attack.
Asparagus is a good source for vitamin C, which helps maintain a healthy immune system, lowers blood pressure, and aids in the prevention of macular degeneration and cataracts
Asparagus is a source of iron, providing our cells and tissues with oxygen
Asparagine is an amino acid found in asparagus and I helps to cleanse our body of toxin
Many women have found that eating asparagus during their menstrual cycle helps to prevent cramps.
Fun Fact: The fruit of the asparagus plant is a poisonous small red berry.  Asparagus is a member of the lily family! 
Easy Veggie Skillet
​This mixture of tender veggies is perfect for packed meals for the week. The savory and tangy flavor element from the vinegar adds the perfect amount of kick to liven up a serving of protein.
One of the reasons that I chose these three particular vegetables (red onions, mushrooms, and asparagus) was because it will last all week in the fridge without getting soft, soggy or otherwise undesirable. In fact, the flavors intensify over a few days and you can continue to enjoy the same batch all week!
Courtesy of RealHealthyRecipes.com
Servings: 8
Here's what you need
2 teaspoons olive oil
1 red onion, halved and sliced
2 bunches Asparagus, trimmed and cut into 1-inch segments
4 cups white mushrooms, stems removed and sliced
¼ cup white wine
sea salt and black pepper
Instructions
Place a large skillet over medium-high heat and add the olive oil. Once hot, add the onion and sauté for 4 minutes.
Add the asparagus and sauté for another 4 minutes.
Add the mushrooms and vinegar and continue to sauté for another 4 minutes. Season generously with salt and pepper and continue to sauté until the liquid is gone and the veggies are tender and flavorful. Enjoy!
Nutritional Analysis
One serving equals: 43 calories, 2g fat, 5g carbohydrate, 2g sugar, 4mg sodium, 2g fiber, and 3g protein.
---
The word "chocolate" is derived from the Aztec cacahuatl, meaning "bitter water," and refers to the extremely bitter unsweetened drink the Aztecs made from ground cocoa beans and spices.
Chocolate is made from the beans of the cacao tree theobroma, which aptly means "food for the gods." 
Dark chocolate has large quantities of flavonoids called catechins, which may benefit heart health. 
Dark chocolate is an energy-rich food that provides about 170 calories per ounce; however, during processing varying amounts sugar which effects the caloric content.
Eating dark chocolate provides you with a variety of minerals including iron, magnesium, copper and manganese. One ounce of dark chocolate contains 3 milligrams of iron. 
The theobromine in chocolate is a myocardial stimulant as well as a vasodilator, it increases heartbeat, and also dilates blood vessels, causing a reduced blood pressure.  
​
Fun Facts ~It takes 400 cocoa beans to make one pound of chocolate. The smell of chocolate increases theta brain waves, which triggers relaxation.
​
Thumbprint Cookies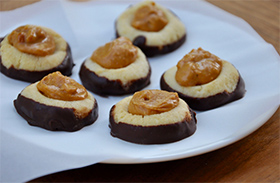 ​Wait, an article about giving up sugar and then a recipe for cookies? Have I lost my mind? This recipe for Thumbprint Cookies is made exclusively using stevia, so you can avoid sugar and eat a cookie too!
Stevia is a natural sweetener (derived from a leaf that you can grow in your own garden) that has zero calories and zero sugar content. The benefits are huge to using stevia as a sweetener of choice.
If we can make cookies that have zero sugar content but still taste sweet and satisfying then shouldn't we? It makes us healthier, leaner and more energetic. All without sacrificing the joy of having a delicious cookie.
Sure, if you've never used stevia then there will be an adjustment period. A time to get your taste buds accustomed to the absence of sugars. But once you adjust then you'll wonder how you ever handled all that sugar in the first place. Give these low sugar cookies a try!
Courtesy of RealHealthyRecipes.com
Servings: 30
Here's what you need
⅔ cup blanched almond flour
2 Tablespoons coconut flour
2 teaspoons arrowroot starch
⅛ teaspoon sea salt
6 Tablespoons coconut oil, softened
2 Tablespoons coconut cream
2 teaspoons liquid stevia
1 egg yolk
½ teaspoon vanilla extract
¼ teaspoon almond extract
4oz lily's stevia sweetened chocolate (chips or bar)
1 Tablespoon coconut oil
⅔ cup natural peanut butter (or another nut butter or berries)
Instructions
Preheat the oven to 350 degrees F. Line a rimmed baking sheet with parchment paper.
In a medium bowl combine the blanched almond flour, coconut flour, arrowroot starch, and sea salt. Whisk to remove any lumps.
In an electric mixing bowl combine the coconut oil, cream and stevia until light and fluffy – about 5 minutes. Add the egg yolk, vanilla extract and almond extract on low speed until fully incorporated.
Add the dry ingredients on low speed by spoonful until creamed into the coconut oil mixture.
Shape cookies with a heaping teaspoon of dough, making an indention with your thumb. Place the cookies on the prepared baking sheet and bake in the preheated oven for 12-14 minutes, until lightly golden. Cool for 5 minutes on the pan before removing.
While the cookies bake, melt the chocolate and coconut oil in a double boiler, mixing until smooth. Dip the base of the cookies and pour a little chocolate into the indentions, topping with a teaspoon of peanut butter. Transfer to a parchment paper lined pan that fits in your freezer. Place the cookies in the freezer for 5 minutes until the chocolate has set. Enjoy!
Nutritional Analysis
One serving equals: 90 calories, 7g fat, 4g carbohydrate, 10mg sodium, 1g sugar, 2g fiber, and 2g protein.
---