Shallots are normally considered a variety of onions, but they are closely related to garlic and have a similar structure of a head composed of multiple cloves. 
Shallots are rich in polyphenolic compounds in higher quantities than in onions and garlic. 
Health benefits of shallots include their ability to lower cholesterol levels, prevent certain types of cancer, provide anti-fungal, antibacterial, and antiviral protection, lower blood pressure, help manage diabetes, soothe nerves, boost circulation, speed up digestion, and aid in weight loss efforts.
Perhaps the best nutritional bonus of shallots is the high and diverse content of antioxidant compounds, including quercitin, kaempferol, and various sulfuric antioxidants.
The antioxidants that are released form another valuable compound called allicin. This powerful compound helps to reduce cell mutation and various cancers. Studies have connected shallots to a reduction in lung and oral cancers, as well as stomach, colorectal, and breast cancer.
Shallots also contain potassium, a well-known vasodilator. A vasodilator relaxes the walls of the blood vessels and allows blood to flow more freely. 
The various minerals and vitamins found in shallots stimulates the release of GABA

 in the brain, which is very important for maintaining low-stress levels and keeping the hormones in the body at the proper levels. If you want to reduce stress or relax your mind, shallots can give you a quick GABA boost.
​                                
​                       
 Fun Fact ~ New Jersey is a large producer of shallots! 
BBQ Chicken En Papillote
​This quick and easy recipe combines chicken, sweet potato, butter beans, green beans and tangy BBQ sauce. It's simple, the meat turns out tender, and there's virtually no clean up!
Be sure to slice the sweet potato very thin, as you want it to be tender at the end of the 30-minute baking time. This is also why we are using thin sliced chicken breast, in order to make sure that the meat is cook through.
Courtesy of RealHealthyRecipes.com
Servings: 4
Here's what you need
2 shallots, thinly sliced into half moons
1 sweet potato, peeled and thinly sliced into half moons
1 cup green beans, trimmed and cut into 1 inch pieces
1 (16 ounce) can butter beans
½ cup natural BBQ sauce (avoid ones with added sugars)
4 chicken breast, thin sliced
2 tablespoons fresh chives, minced
Instructions
Preheat the oven to 400º F.
In a large bowl toss the shallots, sweet potatoes, green beans and butter beans with half of the BBQ sauce. Rub the remaining sauce over the chicken breasts.
Cut four 12-by-16-inch pieces of parchment paper and fold each in half. Open the parchment paper and arrange ¼ of the sweet potato and green beans and a chicken breast in the center of the top half of each parchment. Generously season with salt and pepper. Top with a sprinkle of chives.
Fold the bottom half of the parchment paper over the chicken and veggies. Start folding and crimping the parchment paper ends together from one end all the way around to the other end, creating a sealed envelope. Fold the end under the packet. The packet should be fully encased, with no breaks in the parchment paper for steam to escape – we need that steam as part of the cooking process! Place the packets on a pan.
Bake the chicken and veggie packets for 30 minutes and remove from the oven. Serve the packets on plates, tearing them open just before serving. Enjoy!
Nutritional Analysis
One serving equals: 268 calories, 4g fat, 22g carbohydrate, 3g sugar, 625mg sodium, 5g fiber, and 35g protein.
---
Nutritional yeast is made from a single-celled organism,

 

Saccharomyces Cerevisiae, which is grown on molasses and then harvested, washed, and dried with heat to kill or "deactivate" it.

 

Nutritional yeast flakes may be one of the best additions to your diet in terms of nutrition and taste. It provides a wealth of vitamins, minerals and protein that almost anyone—from Paleo enthusiasts to vegans—can enjoy.

 

Nutritional yeast is a complete protein, meaning that among the 18 amino acids it contains, nine are essential ones that your body cannot produce.
You get a significant dose of the minerals iron, selenium and zinc when you consume nutritional yeast as well and one serving of nutritional yeast provides about four grams of fiber.
Nutritional yeast is a source of B vitamins, including thiamine, folate, B-6 and niacin. Just a half tablespoon of some brands will provide you with a day's worth of B vitamins, while other brands offer between 30 and 100 percent of B vitamins.

 
​​​
Fun Fact – Nutritional yeast contains 71% protein by weight!  Contains no sugar or gluten!
​
Easy Breakfast Skillet
​There are endless combinations of flavors and ingredients that you could put into a savory breakfast skillet, so don't feel that you must follow my suggestions below. Use your favorite breakfast meat, veggies, spices and herbs to create a breakfast skillet that is uniquely suited to your taste.
Courtesy of RealHealthyRecipes.com
Servings: 6
Here's what you need
1 teaspoon coconut oil
1 (12.8 oz) package chicken apple sausage, chopped
12 eggs
½ cup nutritional yeast
1 tablespoon garlic, minced
2 tablespoons fresh parsley, chopped
2 tablespoons chives, minced
¾ teaspoon sea salt
¼ teaspoon black pepper
½ cup roasted red bell pepper, chopped
Instructions
Preheat the oven to 350 degrees F
Melt the coconut oil in a 10-inch ovenproof skillet over medium-high heat. Add the sausage and cook, stirring often, until browned. Transfer to a paper towel lined plate. Leave the drippings in the pan.
Whisk the eggs, nutritional yeast, garlic, parsley, chives, sea salt and black pepper in a large bowl until frothy.
Pour half of the egg mixture into the skillet. Sprinkle the sausage over the eggs. Cover with the remaining egg mixture. Sprinkle with the red pepper.
Bake in the preheated oven for 35-40 minutes or until puffed and set. Serve immediately. Enjoy!
Nutritional Analysis
One serving equals: 326 calories, 16g fat, 15g carbohydrate, 2g sugar, 843mg sodium, 4g fiber, and 31g protein.
---
---
---
---
---
​Apples have been grown for thousands of years: They first grew in Turkey and are considered to be the oldest tree to be cultivated by humans!
Apples are low on the glycemic index and have been shown to reduce the risk of diabetes because of the high fiber content and phytonutrients.
This delicious fruit can also aid in weight loss for similar reasons – the high fiber and low amount of sugar. Apples also have a very high water content.
In addition to digestion-aiding insoluble fiber, apples have soluble fiber pectin. This nutrient helps prevent cholesterol from building up in the lining of blood vessels, which in turn helps prevent atherosclerosis and heart disease.
One apple supplies about 14 percent of your daily vitamin C, which is considered a powerful antioxidant that's important for skin, eye, immune and brain health. 
Apples contain minerals like potassium, phosphorus, and calcium. Potassium helps control heart rate and blood pressure; thus, counters the bad influences of sodium.
​
​
Fun fact:  In the 1860's, the saying ''Eat an apple on going to bed, and you'll keep the doctor from earning his bread" evolved into "An apple a day keeps the doctor away" by 1922.  
Chicken Lettuce Boats
​I love recipes like this, where the flavor and enjoyment outshine the health benefit. One bite of these Chicken Lettuce Boats and you'll see what I mean – the crunch, the collision of flavors and the creamy enjoyment will push all thoughts of calories and fat grams out of your mind…but rest assure that this recipe is highly healthy and will keep you on track towards your fat loss goal. Enjoy!
Courtesy of RealHealthyRecipes.com
Servings: 6
Here's what you need
2 small apples, cored and chopped
1 Tablespoon orange juice
3 cups roasted chicken, chopped
¼ cup toasted walnuts, chopped
¼ cup black raisins
1 (4oz) can mild diced green chiles
½ cup non-fat plain Greek yogurt
¼ cup light, balsamic dressing
sea salt and black pepper to taste
1 head butter lettuce
red grapes – optional for serving
Instructions
In a large bowl combine the chopped apples and orange juice. Mix to combine.
Add the remaining ingredients (save for the lettuce and grapes) and mix well. Chill, covered, for 15 minutes or until ready to serve. Use an ice cream scoop to place the chicken salad on each lettuce leaf. Garnish the plate with red grapes and Enjoy!
Nutritional Analysis
One serving equals: 224 calories, 8g fat, 140mg sodium, 15g carbohydrate, 2g fiber, and 23g protein
---
---
Quinoa is actually a seed, not a grain. Because it is cooked like a grain, it is categorized as such.
This seed from the beet family has the perfect balance of all nine essential amino acids, which is rarely found in plants.
Quinoa has a relatively low glycemic index score of 53, which means that it should not cause a rapid spike in blood sugar after consumption.
As a gluten-free pseudocereal, quinoa is suitable for individuals who are intolerant or allergic to gluten, such as those with celiac disease

.

½ cup of quinoa has 111 calories, 4g protein, 15g carbohydrates, and 2g fat
Fun Fact : The cooking process releases what looks like a curly "tail" coming from the seed. That's actually the germ of the seed,which separates slightly when your quinoa is ready.
Fiesta Bowl with BBQ Tofu
​When it comes to your diet, small and steady changes made in the long term will make the biggest impact on your fat loss goals. Take this fiesta bowl, for example. We've taken a traditional burrito bowl and have lightened it up by using quinoa instead of rice. Feel free to top this flavorful bowl with chicken or steak, if you'd prefer rather than tofu. Enjoy!
Courtesy of RealHealthyRecipes.com
Servings: 12
Here's what you need
1 (14oz) extra firm tofu, pressed and sliced
¼ cup BBQ sauce
2 cups red quinoa, cooked
1 (15oz) can black beans, drained and rinsed
1 small red bell pepper, seeded and diced
½ cup canned corn
¼ cup goat cheese, crumbled
2 Tablespoons fresh cilantro, chopped
1 teaspoon olive oil
1 teaspoon fresh lime juice

sea salt and black pepper to taste
Instructions
Preheat the oven to 350 degrees F. Lightly grease a casserole pan with olive oil. Arrange the tofu slices in a single layer in the pan and bake for 30 minutes, flipping each slice halfway through. Cover the tofu with the BBQ sauce, turning each slice to coat each side. Bake for 15 more minutes. Set aside.
In a large bowl combine all of the remaining ingredients, and top with slices of the BBQ tofu. Enjoy!
Nutritional Analysis
One serving equals: 266 calories, 4g fat, 67mg sodium, 38g carbohydrate, 8g fiber, and 15g protein
---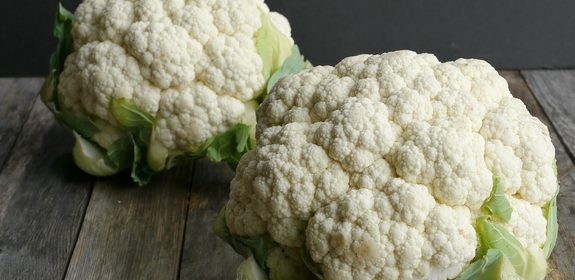 ​Cauliflower is a member of the cruciferous vegetable (or Brassicaceae) family- along with broccoli, cabbage, kale, brussels sprouts.
 Due to its special combination of phytochemicals called carotenoids, tocopherols, and ascorbic acid, cauliflower highly correlated with preventing chronic diseases including cardiovascular diseases, diabetes, neurodegenerative disorders, and various forms of cancers because it helps to decrease the inflammation that causes these problems.
A one cup serving is a mere 29 calories and has close to zero grams of fat, sugar, and sodium.  However, it does offer 73% of the daily recommended amount of vitamin C,  19% of vitamin K,  11% fiber, and 9% protein.
Cauliflower is gaining popularity as a rice substitute in many traditional recipes.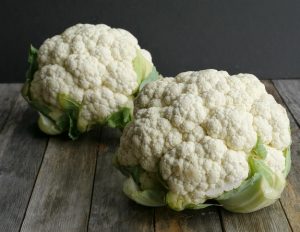 Fun Fact ~   A world's record was set in 2014 for the largest cauliflower.  It weighed 60 pounds, 9.3 ounces, and was six feet wide measured across the leaves.
Taco Roasted Cauliflower
​Wondering what side dish to serve with your speedy dinner? Roasting cauliflower (or broccoli) is a phenomenal veggie side dish that's quick and tasty. The classic way is to roast with simply olive oil, minced garlic and sea salt. It only takes a few moments of prep work and then roasts in the oven for 20 or so minutes while you pull dinner together. The florets come out crispy and savory, which is a nice change from soft and soggy that we often encounter.
This version below uses taco spices to amp up the flavor and excitement of this classic cauliflower dish. Enjoy!
Courtesy of RealHealthyRecipes.com
Servings: 8
Here's what you need
3 heads cauliflower
¼ cup olive oil
1 teaspoon sea salt
4 teaspoons minced garlic
2 teaspoons chili powder
1 teaspoon sweet paprika
½ teaspoon ground cumin
½ teaspoon onion powder
¼ teaspoon garlic powder
1 teaspoon fajita seasoning
Instructions
Preheat the oven to 425 degrees F.
Wash the cauliflower heads and remove the stem and leaves. Cut into florets and then slice the florets into thin, flat pieces.
Place the florets in a large bowl and toss with the remaining ingredients. Spread over two large rimmed baking sheet and roast in the preheated oven for 25 minutes. Enjoy!
Nutritional Analysis
One serving equals: 86 calories, 6g fat, 6g carbohydrate, 2g sugar, 292mg sodium, 3g fiber, and 3g protein.
---