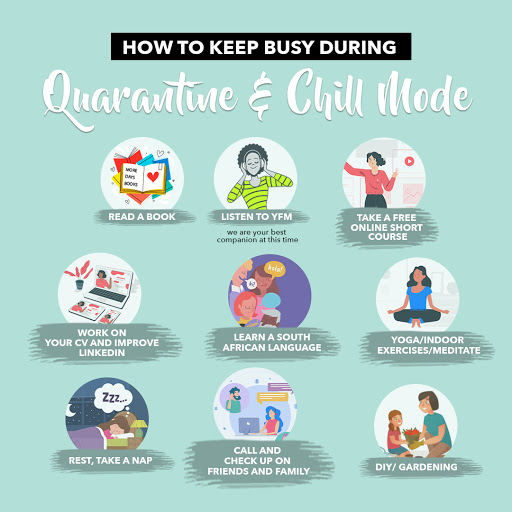 Life indoors has the power to lift up and motivate you OR send you mentally and physically into the dumps. 
Here are 10.5 easy-to-implement tips for keeping happiness close while living life indoors:
Stay connected.

Call friends and family often! 

Live with structure.

Create a daily schedule for yourself.  

Get dressed up for yourself-

you deserve a hot date! 

Eat a variety of nutrient-dense foods.

This includes when you're snacking! Swap out those chips for a handful of almonds, that cake for some fresh strawberries! 

Workout with your favorite trainer!

Not sure what I mean?

Click here to check out Nelli's class.

Want to get in on the action? Take 2 weeks of ONLINE Fitness and Yoga classes for FREE! 

Laugh often!
Read or listen to an inspiring book.

Nothing in mind? Below is a list of five of my favorite books for you to check out!

Watch a great movie.

Check out my top five below! 

Utilize meditation and deep breathing for clarity, focus and mindfulness.

The breath keeps us in the here-and-now. 

Use your creativity to start a fun project!

Embracing a new project has the power to motivate and inspire. If there is something you've been wanting to do but haven't, give it a go! You might be surprised by how it moves you. 

Follow through with what you start.

It feels good to get things done! 
Fantastic books:
The Alchemist by Paolo Coelho 
A New Earth by Eckhart Tolle
Milk and Honey by Rupi Kaur 
Mindfulness by Mark Williams 
12 Rules for Life by Jordan B. Peterson 
Fantastic Movies: 
Ferris Beuler's Day Off 
Groundhog Day 
Silver Linings Playbook 
When Harry Met Sally 
The Notebook